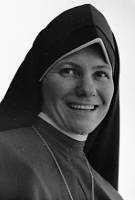 Sister Maria Claire Albrecht, MM
Born: April 6, 1924
Entered: October 14, 1949
Died: January 18, 2009
Our Sunday Eucharistic Liturgy, January 18, 2009, commemorating the opening of Christian Unity Week had just ended when we received word from Phelps Memorial Hospital that our Sister Maria Clare Albrecht had quietly and peacefully passed into the arms of her loving God. She was 84 years of age and a Maryknoll Sister for 59 years.
Sister Maria used her passionate enthusiasm for teaching catechism at a nearby parish, her energetic participation in a charismatic prayer group, and even her delight in being able to do her exercises in a local pool,seemed to belie the imminence of her sudden passing. Her new-found talent, discovered in an art class last summer, was also a source of joy and pride for her.
Clara Ida Albrecht was born in St. Helena, NE on April 6, 1924 to Theodore and Josephine (Tramp) Albrecht. She was one of ten children, having three brothers and six sisters. One sister also became a religious, Sister Agnes Albrecht, an Ursuline Sister, now deceased. Her parents along with four of her sisters and two brothers have also predeceased her. Sister is survived by two sisters, Rita Burbach, and Joan Suing, a brother, Floyd Albrecht, and numerous nieces and nephews.
Clara Ida's early education was with the Benedictine Sisters in grade school and with the Ursuline Sisters at Holy Trinity High School in Hartington, NE, graduating in 1942. She also attended Nebraska State Teachers College.
In 1949, Clara entered the Maryknoll Sisters at the novitiate in Valley Park, MO and at Reception received the religious name of Sister Nathan Marie. Later in life she used the name Maria Clare. Sister made her First Profession of Vows at Valley Park, MO, on May 8,1952 and her Final Vows on that same date in 1955 at Maryknoll, NY. She studied at Maryknoll Teachers College receiving a Bachelor of Education degree in 1955 and later a Masters in Education from St.Louis University, St. Louis, MO. Some years later she attended the East Asian Pastoral Institute in the Philippines, and for two years,from 1990 to 1992, she took courses at Maryknoll School of Theology.
In 1955, Sister Maria Clare was assigned to teach African American children, first in St. Anthony of Padua School in the Bronx, NY and then in St. Ann's School in St. Louis, Mo. Of this time she said, "Having been born in Nebraska, a northern state, it was my first experience with African Americans and I loved it from the beginning." And that loving relationship never changed.
Sister Maria was assigned to Japan in 1963 and after Japanese language study began her ministry as a high school teacher. Later she was engaged in various ministries including pastoral work in a parish in Kyoto, ecumenical collaboration as a social worker in slum areas, pastoral ministry with orphans and the physically challenged. She also worked with homeless youth and taught Japanese to non-Japanese speaking prisoners in a maximum security facility in Tokyo. During these years she lived in Kyoto, Tokyo, Yokkaichi and Ueno.
From 1984 to 1986 Sister Maria lived in China and taught English at Nankai University in Tianjin and in the Beijing Foreign Languages University. In Beijing she also taught high school teachers from China's poorest and most remote areas. Of her time in China she wrote, "That was one of the most meaningful ministries of my Maryknoll mission work."
After her return from China, Sister Maria Clare contributed her time and energy in various positions of service to the Congregation. From 1989 to 1992 she worked in our Main Chapel Sacristy, in Immigration Services and as a Driver for the then Maryknoll Nursing Home.
In 1993 Sister Maria returned to Japan where she ministered until she decided in 2000 to join our Retirement Community in Monrovia, CA. Sister returned to the Center in 2003 and was assigned to the Eden Community. From then until her death, Sister Maria Clare made every effort to faithfully serve the Mission of Jesus in her daily living and in her special delight – PRAYER. Her prayer ministry was for the people and Sisters in China and Japan.
Sister Maria Clare's life was defined by her charismatic nature that flowed from her great love of God, family and many friends. She also had great faith in the power of healing. She was especially close to her family and in her Christmas letter of 2006 she wrote that she prayed daily for her nieces and nephews. In times of family tragedy she was always quick to respond in her efforts to console. Sister's many friends were of diverse faiths and she loved them unconditionally. That is why it seems so appropriate that God would call her home on Christian Unity Sunday.
We are grateful to all of you who by your love and support have made possible Sister Maria Claire's rich and full life as a Maryknoll Sister.
We also welcome our Maryknoll brother, Father Thomas Egan, who along with Fr. Treacy, will preside at our liturgical celebration of Christian Burial.