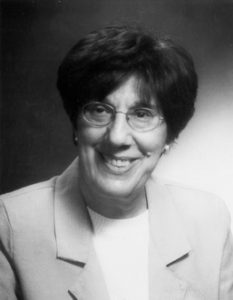 Sister Maria Colabella, MM
Born: May 9, 1940
Entered: September 2, 1978
Died: March 19, 2019
Sister Maria Colabella died at Maryknoll Sisters Home Care at noon on March 19, 2019 after a long illness. Maria was born in Brooklyn, NY on May 9, 1940 to Emelia Luongo Colabella and Pasquale Colabella. She had two sisters, Sr. Jacqueline Marie, SSND and Geraldine DeLuca.
Maria attended St. Brendan's Diocesan High School in Brooklyn, graduating in 1957. She attended Long Island College Hospital School of Nursing, obtaining an R.N. Diploma. She then attended St. John's University where she received a Bachelor of Science Degree in Nursing in 1964.
From 1965 to 1967 Maria worked with the Catholic Medical Mission Board in Ado-Ekiti, Nigeria as Nursing Instructor and Supervisor at Maria Assumpta Hospital. In 1968 she joined the Papal Volunteers. In preparation for a new assignment, she attended the Catholic University of Puerto Rico for three months to learn Spanish. Maria was then assigned as Nursing Instructor at the Universidad Santa Maria in Arequipa, Peru for four years and as Public Health Nurse and pastoral worker in Chimbote, Peru in association with the Dominican Sisters from Columbus, Ohio for two years.
Maria entered the Maryknoll Sisters at Maryknoll, NY on September 2, 1978 where she made her first profession of Vows on June 28, 1980 as well as her Final Vows on May 22, 1988. She graduated from the Maryknoll School of Theology with a Master of Arts Degree in Theology (Religious Studies) on May 27, 1988.
Maria's first assignment as a Maryknoll Sister was to Ocotal, Nicaragua in 1981, where she worked in Health Care and Pastoral Work, especially in Basic Ecclesial Communities, advocacy and counseling. From June 1982 to January 1983 she gave Congregational Services at Maryknoll, NY in the Nursing Home, Center Health Unit and in Communications. In February 1983, to be near her ill father, Maria applied for Family Ministry. During this time, she worked at Transfiguration Parish in Brooklyn, NY, working in health programs, counseling for Salvadoran refugees and Hispanic teens.
Maria returned to the Maryknoll Sisters Center, NY in 1986 to 1988 for Renewal and Reflection Year as well as for health reasons.
In 1989 she returned to Peru/Ecuador Region but her health issues necessitated her return to Maryknoll in 1990. In 1991 she began a ministry in the Brooklyn Diocese and the New York Archdiocese among multicultural communities until 2014 when she retired.
All of this does not, however, tell us who Maria was. In her presence you felt immediately embraced by her broad smile. She was the personification of kindness and love, reaching out to all. You never saw her without her phone ever ready to be present to those needing advice or comfort. She also surrounded herself with beauty. Plants and flowers as well as music and art filled her spirit with joy. Maria's life was filled with much suffering but she always lived life to the full. Ending a phone call and saying 'goodbye' was always hard for her and we too, Maria find it hard saying goodbye. May you shed the light of your courageous spirit upon us. We are all united in loss.
We are happy to welcome here this morning Sr. Maria's family and friends. We are also pleased that Fr. Robert Lloyd, MM will celebrate the Mass of Christian Burial.