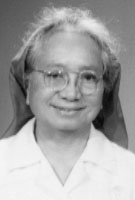 Sister Maria Concepcion Kalaw, MM
Born: March 9, 1904
Entered: July 16, 1930
Died: July 19, 1973
On Thursday, July 19th we received a cable from Sister Dorothy McGowan informing us that Sister Maria Concepcion Kalaw had died peacefully that morning.
Sister Maria Concepcion Kalaw (Dolores Katigbak) was born on March 9, 1904 at Lipa, Philippine Islands, of one of the prominent families in Batangas Province. She was educated in the Philippines and before entering Maryknoll in July, 1930, was a lab assistant in Chemistry at the University of the Philippines and a lecturer in Bacteriology and Chemistry at the Philippine Women's University. She was our first Filipina Maryknoll Sister, and returned to the Philippines in 1934 to continue her work in education, particularly at Lucena, Jimenez and Panabo. During this time she was not only devoted to her students in her classes, but also to the betterment of the people of the barrio. Thus began, through small projects, what would blossom into "KIPANA", which in Tagalog stands for "Movement to Uplift the Conditions of the Barrio People"  a self-help organization. It seems fitting that the August issue of Maryknoll magazine pays tribute to her efforts through this organization in the article "She Retired to a Busier Life."
The response of the people as shown by their presence at her wake and funeral gives testimony to her Christian witness among her own people.
'We brought Sister home on Thursday evening and we waked her in the Chapel, opening the Community room for refreshments for the family and friends. Her brother Gregorio, her six sisters, many relatives and friends came to pay their respects. It was beautifully simple to observe. During the day, many students from the College came in and out and the elementary classes who had helped her "collect stamps for the missions" did likewise. The funeral Mass was on Saturday at 10:00 A.M. with Father Gerry Couture, MM, as the main celebrant with four other priests concelebrating with him. The Eucharistic Celebration was a joyful one, and toward the end, Bishop Vibal from Bulacan, who had just heard about Sister's death, arrived just in time to give the final blessing."
Let us give thanks for the gift of this life of 41 years of service among her beloved people and ask God to welcome her into His Kingdom which He has prepared for those who love Him by their efforts to enable the poor to house, feed and clothe themselves.