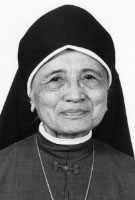 Sister Maria Corazon Jaramillo, MM
Born: May 17, 1909
Entered: June 30, 1935
Died: November 22, 1998
The words from today's first reading: God is my witness, I long for all of you with the compassion of Christ Jesus, beautifully exemplify the life of our Sister Maria Corazon Jaramillo. Sister had been a Maryknoll Sister for sixty-three years and throughout her active ministry, lovingly and compassionately, cared for all who came to her for medical care. In 1994, failing health necessitated her admission to the Residential Care Unit at the Center where, surrounded by love and compassion, she died peacefully and quietly on Sunday, November 22, 1998 at 12:20 p.m.
Antonia Jaramillo was born May 17, 1909 in Salana, Cagayan, Philippines to Juanaria and Guadencio Jaramillo. Antonia grew up in a large family often children. After graduating from Cagayan High School, she continued her studies at the University of the Philippines where she received a Medical Doctorate degree in 1934.
When Antonia was a medical student, she stayed at a student hostel run by the Maryknoll Sisters. Her mother was nervous about sending her to the city alone for the first time, so Mrs. Jaramillo went to inspect the hostel herself before she would give permission for Antonia to stay there. During her visit, Mrs. Jaramillo met Sister Trinita and the two other Sisters who were in charge of the hostel and she knew that her Antonia would be in good hands. Looking back on her reasons for entering Maryknoll, Sister Maria Corazon remembered that the Convent was right next to the hostel and each evening when the Sisters had recreation, the student could hear their laughter and she was drawn to them and to Maryknoll by their joyous spirit. Sister Maria Corazon learned her deep spirituality from her mother who was a deeply religious woman. She remembered walking on her knees with her mother to a shrine of the Blessed Virgin in thanksgiving for passing an important exam in medical school.
Upon completing one year as Rotating Resident at Philippine General Hospital, Antonia entered the Congregation on June 30, 1935 at Maryknoll, New York. At Reception she received the religious name of Sister Maria Corazon which means "Heart," a name which fittingly describes this compassionate woman who dedicated her life to the healing of body and heart. Shortly after making her First Profession of Vows on January 6, 1938, Sister Maria Corazon was assigned to China where she remained for 14 years until 1952. Going first to Hong Kong, Sister conducted a pilot clinic for the treatment of tuberculosis until she was forced to leave Hong Kong for Macau when the war broke out. In Macau. she worked with other Maryknoll Sisters to convert a pig sty into a shelter for 500 war orphans. In 1946, she was assigned to Our Lady of the Angels Hospital in Canton, China. The following year Sister was medical resident at Sacred Heart Hospital in Toishan City, China and she managed to keep the hospital going until she was arrested and later expelled from China in 1952.
In October 1953, Sister Maria Corazon was assigned to Korea. There was no formal Korean language study program set up at that time and she learned to speak from one of the Sisters who had studied at Yale University. Since she was new to the country, she was not very knowledgeable about the honorific forms of the Korean language. A story is told that one day as she was caring for an old bearded grandfather in the clinic she used the children's style of Korean to say, "Please take off your jacket." The gentleman's wife, standing beside him, was startled that anyone would speak to an honorable grandfather in children's style Korean. The grandfather, realizing that Sister was still learning the language, laughingly said that no one had addressed him that way since he was a child! Sister Corazon replied: "I don't think you're very sick if you can laugh like that!" Grandfather later studied the Christian doctrine and was baptized.
For 21 years, Sister worked in three clinics run by the Maryknoll Sisters including the clinic at the Maryknoll Hospital in Pusan. She worked in the Well Baby Clinics, the Maternal Health Clinics and Tuberculosis Clinics. Throughout her years in Korea she was particularly drawn to working with children and the elderly. TB was common and many children suffered from TB of the spine which necessitated wearing a body cast. Sr. Maria Corazon treated and followed the progress of each of these children from the age of 3 to the age of 12 in all of the three clinics. She was an excellent Pediatric Doctor, who loved her young patients and was able to communicate this love to them.
Sister was often seen in the company of the elderly, walking arm-in-arm with one of them as they walked down the road. She tended to their everyday aches and pains and gave them her full attention and encouragement. They, in turn, were devoted to her and whenever they came to the clinic for treatment, they would ask that she be the one to treat them.
Even after a busy day, Sister could be found visiting those people who were too sick or too old to come to the clinic. She cheered them with her visits and her concern. She also managed to find time to do two things she really loved and that gave her joy – directing the choir and playing the organ for Sunday Masses and special occasions.
In 1973, Sister Maria Corazon was cited by the Korean Government for the medical service she had given to the Korean people for twenty years. Dr. Nam-Gung, gave the following testimony: "You have always so honestly and steadily carried out your duty, that our national health improvement is remarkable." The plaque that she was given read:
Sister Maria Corazon has labored hard in the free medical treatment
movement of the rural and fishing districts for the past twenty years,
so at this time of our 27th general meeting of the Medical Association
in 1973 (March 30th), we cite her distinguished services.
In 1976, at the age of sixty-seven, Sister Corazon applied for transfer to Taiwan. She wrote: "While I still have energy, I'd ask to be given the chance to again try a new challenge in a new area. I feel that Korea is aware of the health needs of the villages and rural areas. The general health of the people is much improved, so I know and feel that I am not needed there and I would like to go where I can be of some service to poorer people. I have been told of the needs in Taiwan but I am ready to go anywhere where the Community sees that I can be of some use; I am ready to go anywhere."
Sister did medical work in Taiwan until declining health necessitated her return to the Center. Upon returning to Maryknoll, NY, she made many new friends as she tended the international gift shop. She was Eucharistic Minister for the Residential Care Unit and also did skillful sewing until her admission to the Residential Care Unit in 1994.
We welcome and thank our Maryknoll brother, Fr. Michael Duggan, for being with us today to celebrate this Liturgy as together we praise and thank God for the gift of Sister Maria Corazon's life.