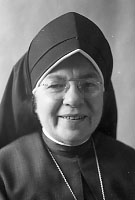 Sister Maria del Rey Danforth, MM
Born: March 25, 1908
Entered: June 5, 1933
Died: August 5, 2000
This morning we gather to remember and to celebrate the life of Sister Maria del Rey Danforth who died peacefully on August 5, 2000 in the Residential Care Facility at Maryknoll, NY, with Sister Antonia Maria Guerrieri at her bedside. We think of Sister as a journalist, a natural storyteller, an author. We think of her as a seasoned world traveler, a great communicator. We think of her in the Publicity/Communications Department at Maryknoll, writing articles for local newspapers when Sisters returned to the Center for Renewal, and preparing for her "Let's Talk About God" Sunday morning TV shows on NBC. We think of her as a cat-lover and as someone who had a special place in her heart for the physically challenged, especially the children and youth. Above all, however, we remember Sister Maria del Rey as one of those Maryknoll Sisters, No Two Alike [the title of one of her many books] – a Maryknoll Sister for 67 years – who lovingly shared her gifts and talents, and left a milestone of Maryknoll history for us all.
Ethel Marian Danforth was born in Pittsburgh, Pennsylvania on March 25, 1908 to George and Anna Caraher Danforth. She had three sisters, including her twin, Jeanne. Following graduation from Sacred Heart Parish Grammar School in Pittsburgh and Seton Hill Academy in Greensburg, Pennsylvania, Ethel attended Carnegie Mellon University (then known as Carnegie Institute of Technology) and later transferred to the University of Pittsburgh where she received a Bachelor of Arts Degree in Music and Journalism. Then, in the midst of the Great Depression and receiving a weekly salary of $18.00, worked for eight years as a reporter for The Pittsburgh Press.
Ethel thoroughly enjoyed her work as a reporter for The Pittsburgh Press but since her senior year at Seton the idea of entering Maryknoll "kept rattling around in her head." She had been president of the Catholic Students' Mission Crusade at Seton Hill, and stories from The Field Afar magazine made a lasting impression upon her. She described her first visit to Maryknoll as: "I came, I saw, I was conquered." She entered on June 5, 1933.
At Reception, Ethel received the religious name of Sister Maria del Rey. She made her first vows on January 6, 1936 at Maryknoll, NY and her final vows in the Philippines on the same date three years later. Sister's first assignment was to Hawaii, in 1936, where she taught 10th grade students, girls and boys from all nations and races, in Kalihi, close to the docks and Oahu Prison. Two years later, Sister went to the Philippines. During World War II, she was interned at Los Banos Camp for three years and was among more than two thousand internees rescued on February 23, 1945.
Sister Maria del Rey returned to the United States in April 1945 and, after recovering her health, set up the Publicity/Communications Department for the Maryknoll Sisters where, for over twenty years, she continued to work and share her knowledge and love of writing skills. She traveled extensively and authored ten books on the work of Maryknoll missioners in countries throughout the world. In addition, she wrote for magazines and newspapers, took pictures, produced TV shows on NBC, produced plays for Blackfriars Theatre in New York, and worked on Jane Wyman's Fireside Theatre in Hollywood.
Travel was never the ordinary package tour for Sister Maria del Rey but she took everything in stride. Once she hung over the edge of a cliff in a Chinese rice truck, another time she was caught in a flash flood in the Andes Mountains. In her usual entertaining style she described flying out of Hong Kong in an ancient DC-3, feeling a cold breeze on her ankles. She wrote: "Right next to the floor was a ragged hole in the wall about the size of a half dollar. Not only cold air, but light and even wisps of clouds came in. Good grief! A leak in the boat and we 10,000 feet above ground!" Sister added that the plane's steward plugged the hole in the fuselage with a huge wad of chewing gum!
Sister pursued studies at Columbia University's Graduate School of Journalism in New York – the first Catholic woman religious accepted as a student in that school – and obtained a Master of Science Degree in Journalism in 1964. As a student, Sister Maria del Rey carried out all the ordinary assignments with her characteristic enthusiasm whether at city hall, police headquarters or interviewing the passerby on the street.
In 1971, Sister Maria del Rey returned to work in the Philippines, again teaching English at Malabon and guiding students in writing newspaper and magazine articles. From 1973 to 1976, she taught English and worked in the library of the High School in Datu Piang, and then went to Lupon, Davao Oriental to begin writing the history of the Maryknoll Sisters in the Philippines.
"Retirement" began for Sister when she completed writing this history and teamed up with Maryknoll Sister Cecilia Wood, started working with physically challenged children and established Our Lady of Victory Training Center, which is still in operation today. Of this work, Sister wrote: "I'm doing now what I used to write books about. She described these "retirement" years as follows: "So here I am, 76 years old, white-haired and a bit arthritic, kind of forgetful, but as the Psalm says, 'still full of sap, still green.' The sap that flows in me is, thanks be to God, a missioner's call which the Holy Spirit gave me the strength to respond to and enjoy."
In 1986, Sister Maria del Rey was awarded the Elizabeth Seton Medal by Seton Hill College in recognition of her work for the physically challenged in Davao City. The citation read in part: "Early in the 1930's the Maryknoll Sisters received a gifted Pittsburgh journalist. Some fifty years later, years of tireless work, reams of writing, and travels uncountable, Sister Maria del Rey, is still working, writing, and traveling… So, with Elizabeth Seton – urged too by the charity of Christ – we can best 'look up to the blue skies,' as she put it, and the Lord of all of us will tell this great lady our reverence and our thankfulness."
How does one describe the personality and life of Sister Maria del Rey? Sister herself did this for us in 1980. She wrote: "I'm a dear old lady with snappy black eyes and grey hair. I'm alternating between kind of skinny one month and sorta plump the next month. I can't seem to keep stable. I'm about 5 feet now but used to be 5 feet 2 1/2 inches and don't forget that one-half inch! I'm short tempered but apologize quickly. I wear baggy pants and very tame blouses. I speak my mind (what mind I have left) with no punches pulled… For my entire life, I've been taking things as they have come to me. I leave it totally up to God. He is running the whole works."
We extend our condolences to all of Sister's relatives and friends who are unable to be with us this morning. We also welcome our Maryknoll brother, Father Jeremiah Burr, who will preside at this Eucharistic Liturgy of Christian Burial as we celebrate the life of Sister Maria del Rey Danforth.