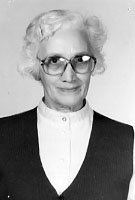 Sister Maria Florence Giambalvo, MM
Born: May 5, 1919
Entered: July 2, 1940
Died: December 15, 2006
We gather this morning to celebrate the life of our Sister Maria Florence Giambalvo. Sister died quietly at Maryknoll in Residential Care IV, after days of faithful vigil by her Sisters and friends, on December 15 at 5:30 p.m. She was 87 years of age and had been a Maryknoll Sister for 66 years.
Providenca Maria Florence Giambalvo was born on May 5, 1919, in Bengasi, Libya, where her father was working at the time. Her parents, Francis and Josephine Libassi Giambalvo, were from Sicily. Florence was four years old when in September 1923 the family set sail from Palermo, Sicily, for New York to start a new home in Brooklyn. Florence attended grammar school there and in 1938 graduated from Abraham Lincoln High School. She had two brothers, Vito and Leo.
It was while visiting Maryknoll in 1940, that Florence decided to become a missioner. "I just called my family in Brooklyn," she said, "and told them I wouldn't be coming back because I was staying at Maryknoll," which she did. Florence entered Maryknoll on July 2, 1940, was given the name Sr. Maria Austin, and made her First Vows on March 7, 1943. After Profession she worked in the Maryknoll Seminary kitchen, and in 1945 she received her first assignment to Transfiguration Parish in New York Chinatown. This was followed, a year later, by an assignment across the country to Mountain View, California, where she served for four years, once again in the kitchen, in the Society Junior Seminary. She made her Final Vows March 7, 1946, at Maryknoll, New York.
In 1950 Florence was assigned to the Philippines. For nineteen years she taught at grade and high school levels, in Baguio, Lipa, at Maryknoll College in Manila and in Lucena where she was Elementary School Supervisor. She earned a Bachelor of Education degree from Maryknoll Teachers College in 1958, and enhanced her teaching skills by courses taken at Maryknoll College in Quezon City. It was said about Florence and her students: "She had exceptional rapport with her students. She pulled very much from them… She seemed to appreciate each one… she saw the endearing uniqueness in each… and they responded magnificently."
Upon receiving an assignment in 1969 to Koror, in the Caroline Islands, Florence wrote, "I am looking forward to my work in Koror. I had expressed my wish to work there many years ago. God is good to offer the opportunity. Having spent almost twenty years in the Philippines, I have grown to love its people so and consider the land as a second home." In one sense Florence never did leave the Philippines because years later it was to become her prayer ministry.
Anxious about her elderly parents' health and wishing to be nearer to them, Florence requested an assignment to the Center, at Maryknoll, New York. For eight years, beginning in 1971, she served as secretary to the coordinator of the newly founded Senior Unit. During this time she enrolled in a literacy program and taught basic reading skills to women in the Bedford Hills Correctional Institute.
In 1979, at age 60, Florence was assigned to the Korea Region. She responded to an invitation from the Sisters in Korea for "older sisters" who might wish to serve in regional administration for a short period. Florence worked instead at the Maryknoll Hospital in Pusan, visiting patients and teaching English to hospital staff. After her renewal, five years later, Florence was informed that because of her special health needs it would not be possible for her to return to Korea. In spite of her frustration with this disappointing news, she wrote graciously, "I have accepted the decision…rather than try to put into words what is difficult to express, I will just say what it has meant to me to have been in a Region whose Sisters I truly love and in a land of such friendly and gracious people. It has been a great privilege to have been a part of their lives and for this I thank God."
In the years that followed Florence helped in the offices of Research and Planning and the Center Council, as well as in the International Gift Shop. She was eventually assigned to the Center in 1988 and, in 1998, Florence moved to Residential Care IV.
In today's readings we will hear:
"Do not let your hearts be troubled" (John 14:1) and "Strengthen the hands that are feeble, make firm the knees that are weak, say to those who hearts are frightened: Be strong, fear not! Here is your God…" (Isaiah 35:3-4)
Dear Florence, no more aching knees and feeble hands. No more fear or troubled heart. You are strong. Here is your God!
We welcome our Maryknoll brother, Father Robert Depinet, who will celebrate the Liturgy of Christian Burial.