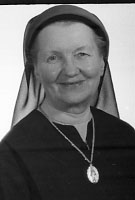 Sister Maria Hostia Bruns, MM
Born: September 5, 1911
Entered: July 4, 1934
Died: Febraury 24, 1998
Sister Maria Hostia Bruns died peacefully at Maryknoll Residential Care at 7:55 a.m., February 24, 1998. Sister Hostia was eighty-six years of age and had been a Maryknoll Sister for sixty-three years.
Margaret Mary Bruns was born September 5, 1911 in Columbia, Missouri. She was the sixth of eight children, five sons and three daughters, born to Mary Clara Dulle and John Herman Bruns. When Margaret Mary was fourteen years of age, her father passed away and the family moved to St. Louis where Margaret Mary completed her grammar school education and attended high school. After graduating from St. Alphonsus High School, in 1929, Margaret Mary worked for the St. Louis Globe Democrat newspaper in the classified advertising section for four years.
At the age of twenty-three, Margaret Mary entered Maryknoll on July 4, 1934. At Reception, she received the religious name of Sister Maria Hostia and made her First Profession January 6, 1937. That same year she was among the first group of five Sisters assigned to work in Japan. She made her Final Profession in Japan in 1940, and later that year returned to the United States to give service at the former tuberculosis sanatorium in Monrovia, California. In 1943, she studied at the New York Institute of Dietetics in New York City. Upon receiving a Certificate in Dietetics, she served for another two years in  Monrovia before returning to Japan to begin forty years of pastoral work, teaching English as a Second Language, teaching western style cooking, giving aftercare to orphans who left their institutions to seek employment in Tokyo, and becoming a certified instructor of the Sogetsu School of Flower Arrangement.
In 1979, Archbishop Peter Seiichi Shirayanagi of Tokyo, formally acknowledged his appreciation to Sister Hostia and her lifelong friend, Sister Maria Theresa Yamagishi, for the youth ministry they initiated and developed. At that time, Archbishop Shirayanagi also expressed his profound gratitude to the Maryknoll Sisters who, for five years, made available to Caritas No Ie (House of Charity) office space as well as a meeting hall where working youth without families could gather with each other, share meals and continue to be supported by counselors from their former charitable institutions. Archbishop Shirayanagi wrote: "Through the kindness of the Maryknoll Sisters, the 'House of Charity' was able to have a place and to work together with the Sisters, especially Sister Theresa and Sister Hostia, for these youth. I have appreciated very much their contribution and wish to express again my sentiments of thanks and gratitude in Our Lord."
Sister Hostia mastered to perfection the most refined form of the Japanese language and her gracious manner attracted people. She was ladylike, intelligent, gentle, soft-spoken, and a pleasant person with whom to be. She was also very artistic; a gift and talent she loved to share with all. On the convent property, a small "shed" was built in which she had her own kiln for teaching the special technique of pottery making. Not only did her young students share the beauty of the carefully crafted pottery, but so did her Sisters in Japan who display in their homes beautiful vases, platters, etc. made by Sister Hostia.
In 1983, Sister Hostia returned to the United States. For the next ten years she worked as a teacher's aide, taught English as a second language and visited the elderly in Transfiguration Parish, Florissant, Missouri. In September 1988, Father John Suren, Pastor of  Transfiguration Parish, in a letter to Sister Luise Ahrens, President of the Maryknoll Sisters, expressed appreciation for the presence of Sisters Hostia and Theresa: "I came here three years ago. Shortly after coming here I was introduced to Sister Theresa and Sister Hostia. During these past three years I have had many, many occasions to call upon these two wonderful nuns to help us out here at the parish. What a wonderful blessing they have been for us. They have made many friends and are highly respected."
Sister Hostia, always eager to be of service to all, extended her pastoral contacts beyond Transfiguration Parish. Every Saturday she would spend several hours visiting and bringing Communion to the Catholic patients in a nearby large nursing home and preparing children for First Communion and the Sacrament of Reconciliation.
Retirement for Sister Hostia began at the age of eighty-two when she was assigned to the Center at Maryknoll, New York in 1993. She remained active and interested in community activities until declining health required skilled nursing care and she was admitted to the Residential Care Unit in 1996.
We welcome our Maryknoll brother, Father Robert Reiley, who will preside at this Liturgy of Christian Burial as we celebrate and thank God for the life of Sister Maria Hostia.