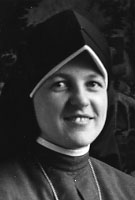 Sister Maria Kim Brech, MM
Born: July 24, 1924
Entered: September 6, 1945
Died: November 1, 2012
Sister Maria Kim died on All Saints Day, November 1, 2012 in Maryknoll Residential Care III. She was 88 years old and 67 years in Maryknoll. Her ministry and life in mission in Colegio Monte Maria in Guatemala had come full circle in August with the dedication of the Homemaking Department in the school being named after Sister Maria Kim Brech, with a new "Laboratorio de Cocina." On its dedication  plaque, Sister Maria Kim's message reads: "God bless this kitchen workspace and those who enter in with love and happiness." Sister Silvia Pacheco attended the ceremony and wrote to Maria Kim, "Your ears must have been buzzing. All the women were talking about you and remembering your time with them at Monte Maria.
On October 27, several of these same women were among the six Monte Maria alumnae who came up to volunteer in our International Bazaar. When Maria Kim's wheelchair rolled into one of the Bazaar booths, all the women surrounded her with abrazos – big hugs, not realizing it was a final good-bye.
Gloria Margaret Brech was born July 24, 1924 in Brooklyn, New York. Her parents, Frances (Spearman) Brech and Frank Peter Adam Brech predeceased her, as well as her brother and her sisters. She is survived by one sister and nieces and nephews.
Gloria attended St. Brigid's grammar school and Bishop McDonnell High School in Brooklyn, NY. She worked as a toll poster for the Bell Telephone Company before joining Maryknoll from St. Brigid's Parish on September 6, 1945.  Upon Reception Gloria received the name Maria Kim and on March 7, 1948, she made her First Vows at the Motherhouse in NY, receiving the name Maria Kim, and made her Final Vows on March 7, 1951 at the Motherhouse.
After completing studies at Maryknoll Teachers College in 1948 and the New York Institute of Dietetics in 1949, Maria Kim took charge of the kitchen at the Sisters Center, Maryknoll, NY, a position she held from 1949 – 1953. She was then sent to serve in the kitchen and bakery at the Maryknoll Junior Seminary, Mt. View, CA where she worked until 1957.
Assigned to Walterboro, SC in 1957, she did catechetical work in St.  Anthony's  Parish and  made  home visits  to parishioners in need over the next four years.Maria Kim was assigned to Guatemala in 1961, and received a certificate of Intensive Spanish from the Instituto Guatemalteco Americano. In 1962 she was in charge of the kitchen for the Sisters and student boarders at Colegio Monte Maria.
In 1966, she participated in Promotion work in NY, returning to Guatemala and Monte Maria in 1971. In addition to her homeroom and being a religion teacher, Maria Kim supervised the library of the Secondary Section, was the school bookkeeper, gave commercial classes and was in charge of the Sisters' kitchen.  Maria Kim was well known for her culinary skills, especially her baked goods. Her hospitality extended to students and all the Monte Maria family as well as Maryknoll priests, Brothers, lay missioners and Sisters. Her cookies and cakes were famous and much appreciated.
One of her students named to the Dean's list of Texas A & M University, singled out Sister Maria Kim as the person who most influenced her intellectual and personal development. Another who worked with Maria Kim in the Library talked about the way she took what seemed tedious and turned it into a lifelong love of learning.
When Maria Kim returned to the Maryknoll Sisters Center, NY in 2000, she was assigned to the Rogers Community. After settling in, she worked in the Donor Services office of the Development Department until 2006.  Her co-workers in the office talked about her energy and caring spirit, a real team-player. "And does she work hard! She's here before we come in and stays late to get the job done."
Maria Kim was admitted to Maryknoll Residential Care III on July 18, 2011.
As we continue our celebration of Maria Kim's life, we are joined in thoughts and prayer by all her friends in Monte Maria, Guatemala.
We welcome our Maryknoll brother, Father Edward Moore, who will preside at our Liturgy of Christian Burial.