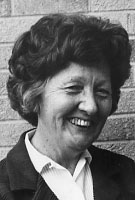 Sister Maria Pia Remmes, MM
Born: November 3, 1915
Entered: June 10, 1939
Died: January 6, 2001
January 6th and the Feast of the Epiphany are special dates for every Maryknoll Sister. We remember January 6th as our Foundation Day and the Feast of the Epiphany, in the words of Mother Mary Joseph in 1937, as a "missionary feast, the day which marks the beginning of our work." For Sister Maria Pia Remmes, however, January 6th and the feast of the Epiphany were perhaps the most meaningful days in her life. It was on the Feast of the Epiphany, January 6, 1942, that she made her First Profession of Vows and began her missionary journey. For fifty-nine years, she lovingly and faithfully followed the Epiphany Star and it was on January 6, 2001 that she attained the goal of her life's journey when she died peacefully in the Residential Care Unit at Maryknoll, New York.
Rita Alicia Remmes was born in Lawrence, Massachusetts on November 3, 1915, one of six children — four daughters and two sons — to Frank and Gertrude Taylor Remmes. Rita received her early education at St. Patrick's Grammar and High Schools in Lawrence, Massachusetts. After graduation she attended Burdett Business School in Boston and worked for three and one-half years before entering Maryknoll on June 10, 1939.
At Reception, Rita Alicia received the religious name of Maria Pia, the name she retained throughout her religious life. Three years after making her First Profession she made her Final Profession at Maryknoll, New York on January 6, 1945 and continued to follow the Epiphany Star to her first mission assignment, Ancon, Canal Zone (now Panama). For ten years she served there in education and in administration as Regional Superior of the Middle America Region. In 1955 she returned to New York to serve as Superior of the Maryknoll Sisters Center.
After completing her six-year term of office as Superior, Sister expressed a desire to further her studies as she felt that the absence of a professional background would be more acute should she "face the future with the possibility of being a superior sometime again." She wrote: "As I am leaving the office of Superior, one which I have always felt was a privilege and in God's wise and loving plan for me, an opportunity to acquire some small measure of sanctity, I feel a sense of an inadequate, educational background. Although communication with the Sisters on a personal basis has always been easy, the absence of a professional background has affected a handicap for me personally and I believe for the work too."
Sister's request was granted and in 1961 she began studies in Sociology at St. John's College, Brooklyn, followed by three years at Boston College earning a Master of Arts Degree in Social Service. (Ten years later, Boston College Graduate School of Social Work named her a recipient of a Presidential Bicentennial Award for her missionary works among the poor of Peru.)
In 1966, after graduating from Boston College, Sister Maria Pia was assigned to work in Peru, her home for the next twenty-nine years. Her first five years were spent in Juli where she started a women's club. Recognizing the value of the skills of the Aymara peoples in wood carving and hand spinning alpaca wool she helped them develop a cooperative to market their products nationally and internationally. During this time Sister also conducted adult and youth groups.
In December 1971, Pia was elected to the full-time position of Regional Coordinator for Peru, with residence in Lima. Upon completion of her three-year term of office, she returned to community development work in the fast growing new town of Ciudad de Dios on the outskirts of Lima. The town of Ciudad de Dios grew up in response to internal migration of the poor who came to Lima in search of work and who lacked all the necessary infrastructure of clean water, sewage disposal, roads, and communication facilities. Pia fostered adult education and leadership training among the residents, especially among the women. When teachers' strikes shortened the school year, she struggled to provide summer programs to help the students make up their lost work. Since school uniforms and shoes were necessary for attendance in school and these items were beyond the means of most families, Pia calculated ways of buying shoes and school uniforms in quantity to make them more affordable. She organized and assisted a women's group in the production and marketing of knitted alpaca items. She also organized a program to educate women to identify undernourished children in the area for food supplementation and began a breakfast program for them. In September 1995, Pia requested an assignment to Monrovia, California because of failing health.
How can one capture the life and person of someone like Pia whose list of works and accomplishments are endless? Perhaps the following, shared by one of our Sisters in Peru, helps to do this.
"Although Pia spent her life doing good works, I found her fascinating for who she was rather than for what she did. She had boundless energy and enthusiasm for life, a wonderful sense of self, a tremendous wit and sense of humor, a fine mind, a wholesome perspective on life and a generous loving heart. Those of us who had the privilege of spending a lot of time in conversation with her learned tremendously from her wisdom and came to appreciate the depth of her religious faith. Although her passing leaves a tremendous void in our hearts and in the life of all whose lives she had touched, our spiritual journey has been permanently enriched and graced by our friendship with Pia, which truly proclaimed the presence of God."
We extend our deepest sympathy and prayers to Sister Maria Pia's family and friends. We also lovingly remember in a special way our Sisters and friends in Peru and Ecuador with whom she had shared life for many years and with whom she continued to remain very present in prayer. We are also pleased to welcome our Maryknoll brothers, Father James O'Brien, friend and co-missioner with Pia in Peru, and Father Stephen Wood who will co-preside at this Liturgy of Christian Burial. As we thank God for the life of Sister Maria Pia, may we be reminded of how we have been touched by her presence in our lives, by the twinkle in her eyes, by her candor and straightforwardness, and by her loving and gracious manner.