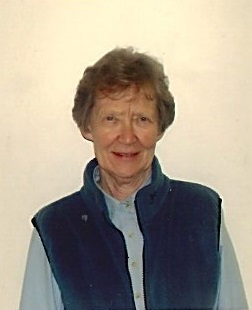 Sister Maria Rieckelman, MM
Born: August 31, 1927
Entered: September 6, 1945
Died: December 28, 2018
Sister Maria Rieckelman died on December 28, 2018 at the Maryknoll Sisters Center in Maryknoll, NY. She was 91 years old and a Maryknoll Sister for 73 years.
Sister Maria was born Alice Rieckelman in Cincinnati, OH on August 31, 1927 to Mary Louise (Mathews) Rieckelman and Harry H. Rieckelman.  She had two sisters, Mary Louise and Edith, and two brothers, Harry Jr. and Charles. Maria remained very close to her family and spoke often of her wonderful parents, sisters, and brothers who were key in shaping her life in trust, security and love.
In 1945, Alice graduated from St. Mary's High School in Hyde Park, Cincinnati, OH where her interest in mission in Asia was first awakened. Sisters returning from China visited the school and told stories about China and its people.  She entered the Maryknoll Sisters Novitiate, Ossining, NY on September 6, 1945 from St. Mary's Parish in Hyde Park.  At her Reception she received the religious name, Sister Maria Fidelis, which she retained throughout her life.  She made her First Profession of Vows on March 7, 1948 and her Final Vows on March 7, 1951 at the Maryknoll Sisters Center.
From 1945-1947, Sister Maria studied at Maryknoll Teachers College in Maryknoll, NY.  Then she transferred to the College of Mount St. Vincent in New York, NY where she earned her Bachelor of Science Degree in 1951.  She continued her studies at Marquette University School of Medicine (now known as The Medical College of Wisconsin) in Milwaukee, WI and graduated in 1955 earning a Doctor of Medicine Degree.  Sister Maria did her internship in medicine and surgery at Mt. Carmel Hospital in Columbus, OH 1955 – 1956.  There weren't many women in medical schools in those days.  Years later at a reunion of her graduating class she thoroughly enjoyed seeing clusters of male alumni pointing her out and wondering whose wife she was!
In 1956, her plan to become a surgeon ended as a result of an accident that seriously damaged the nerves and bones of her right arm.  That same year, she received her first overseas assignment to Pusan, Korea to do medical work.  This experience turned out to be one of the most significant in her life. Besides the opportunity to practice general medicine in a critical time in Korea and under very demanding circumstances, she learned how the Buddhist faith of the people enabled them to overcome extreme suffering and disruption of their lives.  This was the first of many opportunities to expand her political, social, and religious worldview.  Ecumenism, much less interfaith understanding, was not yet a reality in our Church.
In 1958, Sister Maria was sent to Kowloon, Hong Kong where she studied language and supervised the building of Our Lady of Maryknoll Hospital which opened in 1961.  From 1963 – 1967, she served as Hospital Administrator.  This was a period of tremendous upheaval in Hong Kong as thousands of refugees poured in from China.  This was also true of the ministry of the Maryknoll Sisters which up to that time had been focused on formal education.
Sister Maria returned to the Maryknoll Sisters Center, NY 1967 -1970.  The 1968 Special Chapter of Affairs called for major adjustments in Congregation governance structures.  As part of Center Administration Sisterwas instrumental in setting up new governance structures for the Community life of the Sisters living at the Center.
While in Asia, Sister Maria became aware of the lack of mental health education and services in Asia.  To respond to this need, she was assigned to Honolulu, Hawaii in 1970 where she earned a Certificate in General Psychiatry at the University of Hawaii.  In 1974, she earned a certificate in Child Psychiatry, and from 1974 to 1975 she served as Assistant Clinical Professor of Psychiatry and Program Director for the Transcultural Program in Child Psychology in the Department of Psychiatry. Her responsibilities included both outpatient and inpatient supervision, as well as consultation with schools and special services to children and families.
In 1976, Sister was appointed Coordinator of Health Services for the Church in the USA Office of Domestic and Social Development at the U.S. Catholic Conference in Washington, D.C. She remained in Washington, DC from 1978 to 2012.   From there she had "an itinerant partnership ministry" with Maryknoller Fr. Jack Sullivan focused on Psychiatric Therapy and Spiritual Psychiatry to missioners and religious leaders of all faiths in over 40 countries.  This included workshops, seminars, and retreats for communities and leadership groups. They helped participants face issues of interpersonal growth, leadership, trauma, stress and interconnectedness. Both the women's movement and ecological awareness influenced the contents of these workshops.
During the 1970s and 1980s, Sister Maria was involved with leadership teams in the Baltimore, MD-Washington, DC area.  She was a part-time faculty member at the Loyola College, Baltimore Master's Program in Pastoral Counseling for ministers (men and women) of all faiths.  In addition, she was a Consultant to individuals and teams in leadership positions in religious communities, and a consultant and occasional lecturer at Maryknoll's Mission Institute, Mission Renewal Program, Orientation for both Sisters and Brothers, Lay Missioners, and, in the Spring of 1978, Maryknoll's developing Center for Mission Studies. She also served on a number of health-related Associations' Boards and Committees.
In 2012, in declining health, Sister Maria returned to Maryknoll Sisters Residential Care where she remained until her death.  Sister Maria was a member of several professional organizations and received a number of awards for excellence in her profession.  But what she valued the most was personal relationships. Besides her family, and many she met along her journey, she cherished having known Mother Mary Joseph for the last 10 years of Mother's life.  Her wisdom, joy, compassion and utterly common-sense approach to life and mission inspired her. She wrote: "My own spirituality has always been nourished by relationships…. All have taught me love is essential."  She considered her greatest gift in Mission as a Maryknoll Sister to be the opportunity to become friends with so many people of so many different cultures.
We welcome with us here today Sister's family and friends.  We also welcome our Maryknoll brother Fr. Michael Duggan, MM who will celebrate the Mass of Christian Burial, and many Maryknoll Fathers and Brothers present for this celebration.