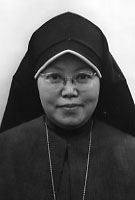 Sister Maria Theresa Yamagishi, MM
Born: March 23, 1912
Entered: December 30, 1935
Died: June 19, 1995
In the early morning of June 19, 1995, after a long illness and a valiant struggle, Sister Maria Theresa Yamagishi yielded her spirit to God. During the evening before, as the sun set on the feast of Corpus Christi, she said many times, "Thank you, thank you for all. It's over now." At 3:40 a.m., she slipped away to begin her eternal thanksgiving. She was 83 years old, having spent 59 years as a Maryknoll Missioner.
Her two nieces, who have been to Maryknoll three times to visit their aunt in the past two years, have expressed their deep regrets that they could not be with us for the funeral. During their visits they endeared themselves to us as a community. We feel their presence in the fragrance of the spray of flowers they sent and also in their gracious message of gratitude to Sister Rosemary Huber: "We express our greatest thanks from the bottom of our hearts, to you Sister Huber, Sister Ogo and all the Sisters." We offer both,  and all the family our loving and prayerful sympathy. We also share their expressed hope that they will be able to come to Maryknoll during the summer to visit their aunt's grave. We look forward to welcoming them.
Sister Maria Theresa was the second of two daughters born to Reizo and Fumiko Yamagishi on March 23, 1912, in Tokyo, Japan. She was called Yoshiko. When she was only 7 years old, Yoshiko's mother died. She was educated in Tokyo, completing her secondary education at Saint Maur High School. During her senior year, as a 16 year old, she was baptized a catholic and took the name Marie Therese Cecilia. After graduation she attended the English Sacred Heart International College, graduating in 1932. She then completed a business school program, as well as a course in Catechetics in the Archdiocese of Tokyo.
From the time of her Baptism, Marie Therese wanted to become a Sister in order to work for the Japanese mission. She often spoke of this desire with her spiritual director who advised her to consider the Maryknoll Sisters because he "deemed the Congregation well suited to her character." Marie Therese wrote her letter to Mother Mary Joseph on October 18, 1933:
"Dear Rev. Mother,
I am a Japanese girl named Marie Therese Cecilia Yoshiko Yamagishi. From reading The Field Afar I know all the missionary work you do in the different fields of the Lord, and I love the Maryknoll spirit very much. I heartily wish to enter… Please pray for me that I may go simply and trustingly."
In January 1934 she was accepted as an aspirant and asked to spend a year with our community in Dairen, beginning on February 14th, "on our Maryknoll Foundation Day", Mother Mary Joseph wrote. Subsequently, Marie Therese entered on December 30, 1935 at Maryknoll, New York. At Reception she was given the name Maria Tabitha, as suggested by her spiritual director who had drawn the significance between her call to the grace of Baptism and the title Jesus had used to call the little daughter of Jairus to life. She made her First Profession on June 30, 1938 and was assigned to Heijo, northern Korea, where she took her Final Vows three years later, on June 30, 1941.
In 1942, as a Japanese citizen, Sister was able to remain in northern Korea with the Maryknollers of other nationalities when those of United States citizenship were repatriated. Insofar as wartime conditions permitted, they carried on their pastoral and educational ministries. Her letter of September 12, 1945 to Mother Mary Joseph, gives us a window on how life had been for our Sisters in northern Korea during those years.
"We are all fine, in spite of the four hard years during which we had to hide many times. We know your loving prayers kept us safe and we are most grateful. It seems so long since the Sisters left us. Don't worry, Mother, but continue to remember us in your good prayers."
In March 1947, traveling in the hold of a Japanese ship, she returned to Japan where she began twenty years of pastoral ministry in her homeland, serving in many different parishes. From 1961 to 1967, she was superior of the house, first in Hokkaido, then in Tsu and in Tokyo.
It was in 1967 that, together with Sister Maria Hostia Bruns, Sister Maria Theresa initiated a ministry among young orphan girls. They opened a recreational center where the youngsters could gather to find companionship and a listening ear as they began life on their own in the world. In her report on the first anniversary of this ministry, Sister Maria Hostia credited Sister Maria Theresa's "fervor and special gift for hard work" for the success of this venture. The Sisters continued in this ministry until 1980 when they turned it over to Caritas. Although Sister Maria Theresa continued to offer her services at the recreational center, she also did some catechetical work, helped with Meals on Wheels, and served on the Archbishop's Social Welfare Board until 1983 when she applied for transfer to the Senior Region. Sister Maria Albrecht, Personnel Coordinator on the Regional Governing Board at the time, wrote:
"Sister has worked hard and enthusiastically for 56 years in Japan at various missions and the fruit of her work will continue to grow. Although she suffers from a chronic ailment, we feel she still has many fruitful years to serve the Lord and that she will show the same enthusiasm for Maryknoll and her mission work in the United States as in Japan." Thus began ten more years of very fruitful ministry in St. Louis, Mo, together with her very good friend, Sister Maria Hostia. On contract with the Adult Education Section of St. Louis Community College in Florissant Valley, Sister Maria Theresa taught conversational Japanese, both on beginner and intermediate levels. She was also an Extraordinary Minister, visiting a nursing home with other Catholic women. After a visit with the Sisters in November 1992, Sister Andree Normandin, attested to the kindly loving presence of the Sisters in St. Louis: "Both Sisters are highly respected. Everyone has only praise for the work they have done in St. Louis over these years."
Although her preference would have been to retire in Monrovia, in 1993, Sister Maria Theresa's failing health necessitated her return to Maryknoll, New York and subsequently to the Residential Care Facility where she died after a very full life of active ministry. She will be remembered gratefully by all who benefited from her goodness.
We welcome our Maryknoll brother, Father Joseph Veneroso, who will preside at this Eucharist of Resurrection. Today we rejoice with our Sister Maria Theresa as she is greeted personally by Jesus who speaks her name, "Talitha cumi – Little one, I say to you, arise!"