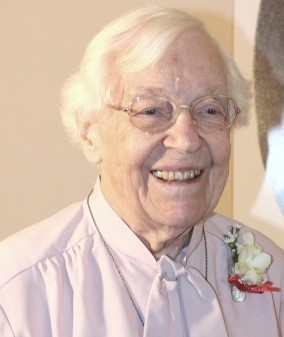 Sister Marie Ann Lipetzky, MM
Born: December 28, 1923
Entered: July 1, 1941
Died: May 19, 2021
Marie Ann Lipetzky passed into eternal life in the Maryknoll Sisters' Residential Care on the evening of May 19, 2021. She had been a Maryknoll Sister for-80 years and would have been 98 years old on December 28, 2021.
Marie Ann was born to Aloysius Lipetzky and Ann (Heitzig) Lipetzky on a farm in Clements, Minnesota that she described as the beautiful country of Southwestern Minnesota. She was the fourth child, but the first daughter, into a family of five sons and six daughters. She is survived by four of her sisters: Bernadyne, Monica, Lois, and Patricia.  Hers was a happy family, with great faith in God, devoted to prayer and they were active members of their parish of St. Joseph in the Diocese of Ulm, Minnesota.
Marie Ann attended Good Counsel Academy in Mankato, Minnesota, graduating in 1941. She had always known she wanted to be a religious Sister. Now she had to decide where. There were a number of options but one day she had watched a film in school about the work of the Franciscan Fathers in Nicaragua. That convinced her that the best thing she could do for God was to become a missionary. This led her to Maryknoll. She took the train from Minnesota to New York arriving at Maryknoll July 1, 1949, but she did not arrive alone. Along the way, she had met several other young Maryknoll Sisters who were returning from a Catholic Student Crusade. Nellie O' Hara, Mother Mary Joseph's erratic driver, was waiting for them at the Harmon station to take them all home. Marie Ann later described the ride as "Nellie's inimitable chauffeuring style."
Her memories of the years that followed, 1941-1954, she said, were truly blessed and instilled in her a deep love of Maryknoll and the liturgy. At her Reception, January 6, 1942, Marie Ann had been given the name Sister Victoria Marie, a name she relinquished after Vatican II to return to her baptismal name. She made her First Vows on March 7, 1944 at the Maryknoll Center. She found great joy that her parents' had attended both these ceremonies. She made her Final Vows on March 7, 1947 also at the Maryknoll Center.
From 1943 to 1947, Marie Ann attended Maryknoll Teachers Training College and received her Bachelor of Education degree. The same year, 1947, she attended the College of St. Catherine in St. Paul Minn. graduating in 1948 with a Bachelor of Science in Library Science. For three consecutive summers Marie Ann also attended the Pius X School of Liturgical Music in Manhattanville College. She suddenly found herself responsible for all the liturgical music at the Motherhouse, the community singing at Mass and the divine office, choir practices, and the classes in Gregorian chant.  "Thankfully," she said later, "my love of music and some talent in singing saw me through." She considered it also a special grace to be able to serve at Maryknoll, NY while Mother Mary Joseph was still alive.
In 1954, Marie Ann was given her first overseas assignment to the Philippines. There she served as librarian at Maryknoll College in Quezon City until 1960 when Sister Marcella Haggerty, newly qualified in Library Science, returned to the Philippines to take over the library of the college.  At this time, an exchange was made. Sister Miriam Francis Perlowitz, who was teaching music at Maryknoll Convent School in Hong Kong, was assigned to the Philippines while Sister Marie Ann came to Hong Kong to replace her.
Early in 1969 to January 1971, Sister Marie Ann was given the opportunity of studying at St. Louis University where she received a Master's degree in Religious Education. The years, which followed the end of Vatican Council II, and Special Chapters of Affairs in religious congregations, were times of seismic changes in the Church and religious life.
Sister Marie Ann returned to Hong Kong. The region which before did not encourage the teaching Sisters to learn the local language were now encouraging it and Marie Ann, now 49 years old, found herself a full time student studying Cantonese at  Hong Kong's New Asia College. For the first time in her religious life, she found herself living in a small community of four or five Sisters. Furthermore, Sisters were also given the opportunity to participate in their choice of ministry. Soon four Sisters were staffing a Young Workers Center in Sau Mau Ping.  During the next eight years, 1974-1979, a series of teenagers with unsolvable home problems, came to live with the Sisters at the Centre. Soon interests widened to include the elderly.
In 1979 at one of the Sisters' regional meetings the Sisters were surprised to discover that Bishop Wu was asking for a community of Sisters who would be interested in running a Caritas Home for the Elderly in a  public housing area. It was in response to the Bishop's request that four of the Maryknoll Sisters: Meidal Stone, Ruth Evans, Anne Marie Emdin and Marie Ann moved into this work.
While waiting to move into the Caritas Home, Marie Ann and Anne Marie moved from the Sau Mau Ping area to the Shun Lei Estate where a section of temporary housing had been set up as an area for a hostel for the well elderly. The Sisters were also given a living area that consisted of two rooms, 10×10 feet each with a three by three foot shower/kitchen entrance. This was a daunting challenge that the Sisters later described as a very valuable, even enjoyable experience.
By 1998, Caritas' work with the elderly had developed tremendously and well-trained staff carried forward the Caritas spirit in new well-equipped centers for the elderly.
As Marie Ann wondered what she would do next, she considered the Maryknoll houses in the Hong Kong/Macau Region. Macau seemed the best option for her. The Sisters in Macau were working with the parish and the elderly. They were very happy to welcome Sister Marie Ann who went there as a retiree but as she had done throughout her life, lovingly and faithfully provided a variety of needed services both to the elderly and to the parish.
Sister Marie Ann returned to the Motherhouse in September of 2005 where she served as Co-coordinator of the Chi Rho Community until 2008 and a Chi Rho Community Team member until 2015.  On October I, 2019, Sister transferred to the Maryknoll Sisters Residential Care.
We thank Father Michael J. Sloboda, MM for presiding at this Mass of Resurrection.  Sr. Maria Ann's cremains will be interred in our Maryknoll Sisters Cemetery, Maryknoll, NY.