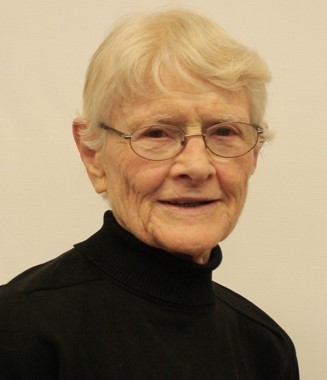 Sister Marie Frances Crowley, MM
Born: April 18, 1927
Entered: September 2, 1956
Died: January 30, 2023
We are gathered here today to celebrate the life of our Sr. Marie Crowley who has spent 67 years in service to the mission of Jesus. Marie was a woman full of life and spirit, and who had a terrific sense of humor. When you mentioned her name, smiles would appear on people's faces. She loved life and filled her days in service to others as a nurse. She had a talent for making things beautiful and especially enjoyed working in the courtyard garden, saying, "I want to make it beautiful for the sisters to enjoy."
Marie died on January 30, 2023 at 5:30 p.m. at the Maryknoll Sisters Center, Maryknoll, New York. For years, she dealt with pain and disability from an injury, but that did not keep her down.  Her generosity surpassed all others. She was a strong personality, but a gentle woman, always present, a good listener, and always giving of herself.
Marie was born in Tewksbury, Massachusetts to Ellen Agnes (Conalty) Crowley and John F. Crowley; she had two sisters, Ann and Jean, both of whom pre-deceased her. She was 95 years old when she died. After graduating from Tewksbury High School in 1945, Marie worked for a couple of years as a clerk in a department store and an insurance company. She then entered St. Elizabeth's School of Nursing in Boston, MA, receiving her diploma in nursing in 1949 and began her years of nursing as a staff nurse at Boston City Hospital from 1949 to 1950.
After those years of hospital work, Marie entered the U.S. Air Force Nursing Corps in 1952 to 1954 and later served on a medical team in Vietnam for one year under CRS. Marie was somewhat disappointed with this experience as she felt there was never enough for her to do. She was a hard worker who was always busy. She had a strong work ethic and an extremely well developed sense of responsibility.
Marie entered Maryknoll on September 2, 1956 at Maryknoll, New York and made her First Profession at Maryknoll on June 24, 1959 and her Final Vows on June 24, 1965 in Seoul, South Korea.
It was in 1960 that Marie was assigned to Pusan, Korea; she served as a nurse in the clinic and hospital run by the Sisters. During all her remaining years in Korea, she served as a nurse, both in the Kang Hwa Island clinic and later at the Jeong Pyeong clinic. She was an excellent nurse with exceptional skills, knowledge and concern. She became well known for her innovative treatment of burns and skin problems. Those years were interrupted by a three-year term in the U.S. doing Promotion Work.
She was never afraid to try anything that would help her patients. She was a strong but compassionate nurse, a woman of integrity. One could always count on her guidance and support. She was always ready to move on to change and to try something new.
During Marie's time as part of the Korean Regional Governance Team, Sr. Rosemary Huber, also a member of the Korean Region, wrote concerning Marie, "Prior to the 1968 Special Chapter, thinking and some experimentation were going on in the Regions. Marie was the person who thought of a different type of regional government. She came up with the idea of a team government with more of the Sisters participating through committees, etc. The Korea Region was the first to attempt the implementation of this idea, and it soon was taken up by all the Regions."
Eager to get back to her nursing, Marie agreed to fill the position of Assistant Director of Nursing in the Congregational Health Care Services from 1992 to 1996. In the late 90's Sr. Joan Sauvigne invited her good friend, Marie, to join the mission in Chukudum, South Sudan. Marie realized the need and, in spite of the civil war in the area, she asked to be assigned there. On February 1, 1997, she was assigned to Sudan and warmly welcomed by Sisters Joan and Mary Ellen Manz. Marie brought with her not only her medical expertise, but also her fun-loving, dry sense of humor.
Although Marie always felt free to express her opinion, she was not judgmental. She expected others to be the best of who they were. There was never a dull moment when Marie was around. Being with her was a joy. Of course she would make you laugh, keeping a serious face herself. This saved her from trouble while others paid the price. Marie was a good friend and a joy in community, faithful, supportive and caring.
Unfortunately, her presence in Sudan ended when the Sisters were forced to leave that mission under gunfire in 1999. Marie decided not to return due to her sister's critical illness. Returning to the Maryknoll Center, Marie was assigned to the Rogers Community on December 1, 1999 and assumed the position of companion and nurse in the Congregational Health Services Out-Patient Care. She filled this position from 2000 to 2011.
Marie's physical condition was generally good but as the years went on, she began to have more physical limitations. She sustained a severe injury while visiting her sister, Ann, in Massachusetts in 2013. Because of the severity of her injury, she was never able to walk without support, but got herself out to the courtyard garden. Gradually Marie began to suffer from an illness as well. We remember how difficult it was for her to give up driving, something she loved to do. She was admitted to Maryknoll Sisters Home Care in 2018 and remained there until her death on January 30, 2023.