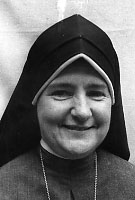 Sister Marie Estelle Coupe, MM
Born: August 25, 1914
Entered: June 5, 1932
Died: August 18, 1981
We are gathered together this morning in our Eucharistic celebration of Sister Marie Estelle's faithfulness and love in service of God and mission. A love that touched all our lives in a special way. A love that strengthens us still as we reflect upon her life and God's purposes in her especially throughout her illness, which ended peacefully and gracefully when she breathed her last response of surrender to Him at 1:15 p.m. on August 18th, 1981.
It is difficult to be brief in describing the beauty and depth of Estelle's life of commitment in love and service. Did she, herself, have an insight into the mystery that was to govern her last years? The following is an excerpt from a reflection written during a retreat she had made in February, 1956, and discovered this year in a box in her former office in Leon, Nicaragua: "So often the feeling comes over me that later in life I shall loose the faculties of mind and intellect and be unable to pray, or to direct my mind and will to God. But in this moment, my God, with my mind and will fixed on you, I vow myself to you for eternity. No matter what comes, my God, never let me swerve from you…"
Margaret Estelle Coupe was born into an exceptionally loving family of ten children in Valley Falls, Rhode Island, on August 25, 1914. The fruits of this family have been vocations of four to marriage; five to religious life, and one to the priesthood. Through the years the bonds of family unity deepened and were remarkable in a special way during these past few years through the mystery of Estelle's illness.
Margaret Estelle began her life in our Maryknoll Sisters Community on June 5, 1932. As a postulant, in a questionnaire that asked, "Do you realize the obligations of religious life?" she responded in this way: "When one has given up one's life for a cause, no obligation is too great."
At Reception, she received her religious name "Sister Marie Estelle." She made her first profession on January 6, 1935 and pronounced her final vows on January 6, 1938.
Estelle's amazing capacity for responsibility was early recognized and appreciated by the Community. She trusted God by believing in others and in herself. Her first years of teaching in Hawaii (beginning in 1938) and St. Louis (1943) among the poor and minority groups, prepared her for future responsibilities of leadership in the Congregation. In 1944, she was chosen to begin Maryknoll's mission presence in Siuna, Nicaragua, as superior of a group of six assigned there. Estelle's spirit was characterized by a loving, thoughtful, intelligent, wise and determined manner. She was a woman of deep faith, who inspired others to greatness through her mission vision and hope-filled creativeness, her intellect and will. Estelle's firmness and formality clothed her deep sensitivity, all-embracing love and loyalty to her sisters and to the people to whom she was sent and with whom she shared her life. In 1950, Chile became another new frontier for Maryknoll Sisters and again Estelle was chosen to lead a group of missioners into the many new challenges they were to face there. She served 14 years in mission in Chile.
Estelle participated as an elected delegate in the Congregation's General Chapters of 1958, 1964, and 1978. From 1970 to 1973 she was director of the then newly-founded Research and Planning Department. During this period she also served on The Center Unit Governing Board. These years continued to reflect her vision, her zeal, her generosity, and her tremendous courage in the face of new challenges.
Shortly after the devastating earthquake in Nicaragua, Estelle returned to Managua in 1973. Through hard and creative work, she launched a pilot project to provide housing that would also foster the formation of Christian Community in Leon, Nicaragua. The seeds she planted there are reaping a rich harvest today. Estelle inspired many women and men to commit themselves to the cause of liberation, of human rights and dignity, for the people of Nicaragua. In these years, Estelle shared herself in a different way, conscious of how the Lord and history had deepened her understanding of religious life and mission presence. Her ability to relate to people of different ages and background, her understanding of the language and culture, her appreciation of the finer things of life, along with her fine sense of humor, made Estelle invaluable to her Sisters and the Nicaraguan people in the time preceding as well as during the first insurrection of September, 1978. We can imagine how difficult it must have been for her to leave Nicaragua at that time to come to New York to participate in the 1978 General Assembly. Her contribution to that Assembly was enhanced by the pain and suffering she had witnessed in Nicaragua and taken deep to her heart.
As a result of a car accident, on December 16, 1978, when she was returning to Nicaragua, following the Assembly, Estelle was called to enter a completely new phase of mission consciousness. The mystery of the final period of Estelle's commitment exemplified a total dependency on God and her Community – and His faithfulness and love for her. We celebrate today LIFE in all its fullness and mystery, and we thank our loving Father for the richness and the deeper understanding of life with which He has graced us through the gift of Estelle.
The main celebrant of the Liturgy this morning is Sister Estelle's brother, Father Austin Coupe, O. Carm.; concelebrating with Father Austin are Carmelite Fathers: Brendan Gilmore, Ronald Gray, Dan Smith, Ellis Reinert, James Boyce, Joel Shevers, Tom Walsh and James Hinde; also: Capuchin Father Casimir, and Capuchin Father Charles Repole; along with Maryknoll Fathers: Francis J. Winslow, Robert E. Sheridan, Norbert Rans, Joseph Smith, Thomas McDermott, and James V. Manning.
As we pray for Sister Estelle's peace and happiness in the Lord, let us be especially mindful of her family and friends.