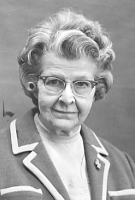 Sister Marie Francois Combs, MM
Born: May 26, 1907
Entered: April 5, 1927
Died: April 8, 1980
Sister Marie Francois, Eleanor Katherine Combs, was the youngest of five in a family of three girls and two boys. She was born in St. Louis, Missouri on May 26, 1907, and entered Maryknoll on April 5, 1927, shortly after completing her high school at Maryville, the Sacred Heart Academy, in St. Louis. Though she never engaged in mission outside the United States, her interest in mission and particularly our young missioners, whom she knew and loved, never waned.
In 1932 (forty-eight years ago) Sister entered our Cloister, one in the first little group of ten pioneers. Prophetically, at that time, Mother Mary Joseph added to her name the appendage of "The Cross" which was to be her special dedication. Only those privileged to know Sister Marie Francois intimately realize how truly inspired and intuitive Mother was in selecting this title. The cross has been her faithful companion over the years, though she scarcely realized then the full significance of all this name would mean as her life unfolded.
Sister left the Cloister for the Center where she became Sacristan. Being artistic by nature and a great lover of beauty, her floral decorations, especially on the great feasts of the Church and all Maryknoll feasts, made every liturgical function a joy.
Added to the duties of Sacristan was that of assisting in the Novitiate where one of her tasks was to make the schedules run smoothly for the large household. Here all the more important charges (on the Professed as well as the Novices' side of the house) were covered by Novices and Postulants, then numbering over 100. These schedules included, also, daily shifts for wrapping and mailing Maryknoll Magazine (then known as The Field Afar) and were anything but easy to manipulate in order to keep all running smoothly and happily in a big house!
Sister Marie Francois had no formal training in art, but had a real native ability in that field and was most creative with a talent, too, for clay modeling in which she engaged on the side. "Mary, Chalice of Divine Love," "The Good Shepherd," and "Christ Love" are some of the products of her heart and hands.
While in the Novitiate, she gave much prayer and thought to preparation for her classes in the liturgy. The Novices found these sessions enlivened by the depth and insight with which she was gifted. Many still recall them with deep appreciation even to this day.
Of late years, when she herself was far from well, she engaged in some apostolic work on a small scale, first by bringing comfort and consolation to an elderly patient at Grasslands Hospital and then to a young paralytic for whom she was able to obtain, through a benefactor, a special bed which would enable him to leave the hospital and be cared for in his own home for the rest of his life.
It was at Grasslands, along with the other Sisters who gave their services, that Sister Marie Francois met Geraldine Twigg, a nurse, in charge of the Intensive Care Unit there. Sister was one of the prime forces in interesting and supporting Gerry in her desire to help in the work of Maryknoll in some then unknown way. Their friendship evolved as a result and led to the making of one of Maryknoll's first lay missioners. How strange God's way!
About two years ago Sister's interest centered in a young prisoner from Jamaica confined to Fishkill Prison at Beacon, New York, who was there for first degree murder. He was the recipient (he and his heartbroken mother with whom Sister corresponded regularly) of her greatest solicitude, charity and concern. Whenever a car was available she was off to Beacon with some dainties or with some much-needed clothing for Dennis, who hadn't a friend in the world, at least in the United States. Though only in his twenties, he became ill and died last July. The prison authorities phoned Sister at the time and asked her if she would come to the burial for "Who had a better right to be there?" On another occasion they asked her how she ever got in touch with such a tough guy. Sister, indeed, did go to his funeral. She, with a Sister-companion, was his sole mourner. Reflecting on the event later, she remarked the contrast between the violence of the boy's life and the beautiful, peace-filled mountainside overlooking the valley where he was buried. How beautiful God's way!
On the occasion of her Golden Jubilee in 1977, Sister Francois wrote to one of her sisters. In speaking of the Offertory procession at the Ceremony in which she took part, she said, "I hope my offering symbolized by the cruet of water I carried to the altar will indeed be received and transformed by the crucified Jesus. There is nothing else in my life to witness and proclaim to His loving power… It was very humbling to be the recipient of so much on my jubilee when I give so little." So little? We will let Him who rewards even a cup of water given in His Name be the judge!
Last summer, Sister made a directed retreat at Manhasset. It was the "highlight" of her life. This year she had hoped to make a thirty day retreat, but her Heavenly Father intervened and took her to Himself. At 3:00 a.m. on April 8th, 1980, after having renewed her vows a short while before, she slipped quietly into His arms.
Our deep sympathy goes out to Sister's family. May this dear Sister, who throughout her life and during her last illness lived the Paschal Mystery so fully and so hiddenly, now rest in the peace and joy of our Risen Savior. Alleluia!