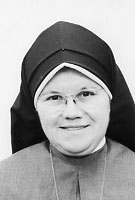 Sister Marie Ivan Arendas, MM
Born: March 6, 1906
Entered: June 9, 1933
Died: December 19, 1987
Today in our Eucharistic Liturgy we come together to celebrate the life and death of Sister Marie Ivan Arendas. Sister was taken to Phelps Memorial Hospital on December 16 for surgery. However, she suffered another illness shortly after and passed quietly into unending light and Life on December 19, at 2:30 P.M.
Sue Elizabeth Arendas was born in Wilmerding, PA. on March 6, 1906. She was one of 6 children born to Michael and Elizabeth Bovtum Arendas, who came to the U.S. as immigrants from Czechoslovakia. After graduating from South Wilmerding Public School she attended Union High School in Turtle Creek, PA. She was bookkeeper, housekeeper and cook until, at the age of 27, she made application to Maryknoll. Although a member of the Byzantine Catholic Church in her youth, it was the influence of a saintly parish priest and an article in the Pittsburgh Catholic with a picture of the Maryknoll Sisters first mission in China that inspired her to join the Maryknoll Congregation in June, 1933.
I would like to highlight briefly only 3 points in Sister's life of over 54 years in Maryknoll.
At Reception she received the name "Sr. Marie Ivan"; made her First Profession on January 6, 1936 and pronounced her Final Vows in 1939. She completed her studies at the Venard in Clarks Summit, in  Pennsylvania. After her profession, her assignments led to the living out of the words she had said when requesting First Profession, "I am willing to accept cheerfully any kind of work assigned and in any place." Sister Marie Ivan served in most of the houses of the  Congregation within the continental United States: Mt. View, Monrovia, Chicago, Bethany, Stockton and St. Teresa's. Her skills varied from housekeeping, to good cooking – "care of the Sisters in all these missions," she called it. In 1972 she became part of the Supportive Services here at the Center, working in the Mimeograph Department and Typewriter Maintenance and Repair.
The second point is this: We have said many tines of ourselves, "We are blessed by the influence of diverse cultures both within Maryknoll and among the people with whom we live and work." One thing that Sister Ivan was very proud of was her American-Slovakian heritage. She spoke Slavic, Polish, Croatian and Russian. Up until several years ago when she could no longer manage the trip, she had accompanied the group of Sisters covering the Promotion date in Baltimore, Maryland, annually,on Ascension Thursday. Sister Ivan was invited each year and welcomed by the Lithuanian Parish because of her Slovakian background and the ability to converse in the language of the people. In later years, she did not always feel up to the long trip, but she loved the people there and their contact with Maryknoll and so made light of the physical demand on herself. Sister made her last trip there in 1984.
And the third point I would accent in her life was the period from 1985 until her death, which was spent in the Maryknoll Nursing Home. It appeared to be a new beginning for her. We were used to seeing the external characteristics – robustness, heartiness, sometimes gruffness, ability to take care of herself, finding it hard to ask for help. But now she seemed willing to share more of her inner self – the subtle sense of humor, winning smile, the eager and quick response to friendliness. She was present to the other Sisters and Staff in a way that was not so apparent to us before. It was not a surprise then that there was a palpable silence and sense of loss when they in the Nursing Home heard of Sister's sudden leave-taking… for had grown accustomed to this strong, winsome women in their midst and she had lived out here the words she said so many years ago, "I am willing to accept cheerfully any kind of work assigned and in any place."
Just as the Joint Mission-Sending Ceremony was beginning, Sister Marie Ivan made her last response to mission and responded totally to the call of her God. As the Choir sang, "Blest be the Lord, the God of Mercy, the God who Saves", we praised God for the life and mission of Sister Marie Ivan Arendas.
We are grateful for the presence of Monsignor Robert Senetsky of SS. Peter and Paul's Catholic Church of the Byzantine Rite in Peekskill, as Sister Ivan loved the Byzantine prayers. Monsignor will join Father Robert Wynne of Maryknoll in the celebration of the celebration of the Eucharistic Liturgy of thanksgiving and remembrance. We want to extend our sympathy to Sr. Marie Ivan's family and friends.