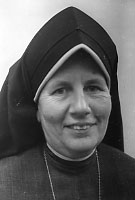 Sister Marie Jeremie Crowley, MM
Born: May 20, 1916
Entered: June 30, 1938
Died: April 21, 2012
Mary Catherine Crowley, known to us as Sister Marie Jeremie, was born on May 20, 1916 in Portsmouth-by-the-Sea, New Hampshire, to Jeremiah and Mary (Meehan) Crowley both from Ireland. She had one sister who has pre-deceased her.
Mary Catherine began her education with the Sisters of Mercy at St. Patrick's Grammar School in Portsmouth, NH in 1921 and graduated from Portsmouth Public High School in 1933. The Sisters of Mercy awakened in Jeremie an interest in mission as they encouraged her to read The Field Afar, now Maryknoll Magazine. At the same time, her uncle gave her a subscription to the Maryknoll Junior. Sister wrote later, "The stories I read of the Sisters' work in the Orient and their cheerful spirit inspired me to ask to be accepted at Maryknoll in 1938."
Mary Catherine entered Maryknoll on June 30, 1938 and received the name Sister Marie Jeremie at her Reception into the Community. She made her First Profession of Vows on January 1, 1941 and her Final Vows on January 1, 1944, both at Maryknoll, NY.
In 1943, Sister Jeremie was among the first group of Maryknoll Sisters assigned to the Maryknoll Sisters newest mission area, Bolivia, South America. Sister Jeremie later wrote, "The life of Father Jerry Donovan had a great influence on me and I longed to go to Manchuria to carry on the work begun there, but, when I was ready for the long awaited assignment, the Orient [was] closed because of the war. My great moment came when the names were announced of the first Sisters to Latin America. We were sent out with vague ideas of Bolivia and one Spanish phrase, "Voy a Bolivia" (I'm going to Bolivia), which didn't help much upon arriving there!"
Sister Jeremie worked in the laboratory of the Riberalta Hospital with Sister Mercy for several years, while also serving as Bishop Escalante's secretary and helping in the Parish school. In 1951, Sister went to the jungle town of Cobija, Bolivia, as superior and principal of the mission school.  In 1958, Jeremie was assigned to Montero, Bolivia, where she held the same positions. She returned to Riberalta the following year. From 1962 until 1968, Sister Jeremie served in Azangaro, Perú and in Cochabamba from 1969-1972 where she was involved in catechetical work as well as working with teachers in general education.
Sister Jeremie returned to the Center for service in 1972-1974 where she worked as secretary in the Physical Plant. During this time, she also taught English in Ossining High School and acted as translator in the Open Door Clinic in Ossining.
The year 1974 saw Jeremie back in Perú, this time in Arequipa doing Pastoral work. In 1976 until 1980, she answered a request from the Chilean region to act as administrator at their Center house in Santiago. Returning to Lima, Peru in 1981, Sister Jeremie served as a secretary for LADOC, the Latin American Documentation publication spearheaded by the members of the Maryknoll Society in Latin America. From 1985 to 1987, she again served as the Region's Center House Administrator, this time in Lima Peru. Her generosity and sense of humor and hospitality served her and all the Sisters well.
Given the various times she had served in our Center houses, the following quote has real meaning, "I feel that a great part of my ministry has been my availability and generous hospitality to Sisters and all visitors coming to our Center Houses for rest, altitude leave or just for a  holiday."
Jeremie always felt that she had a special way with Primary School children and loved preparing them for First Communion and Confirmation. She said, "The ease with which they reflect and talk about the Lord keeps me 'young in spirit'. Working with the teachers and parents has put me in touch with many of their personal problems and struggles, and has given me a deeper understanding of their culture."
In 1988, on the eve of her Golden Jubilee, Jeremie answered a number of questions given to all who were to celebrate that great day. When asked why she chose Maryknoll, she mentioned her exposure to the Field Afar as a child in Primary School. She said, "I admired what the Maryknoll Sisters were doing especially in China, but it didn't cross my mind for several years that the Lord was calling me to try it for myself!  Therefore, one day, while praying, I was toppled over like St. Paul…wrote to Maryknoll (sort of hoping maybe they wouldn't accept me, and again that they might). On entering, I liked the spirit so much. We even had Mother Mary Joseph very close and interested in each one of us and our families."
Jeremie returned to the New York Maryknoll Center in 1987 where her talents were appreciated as she acted as secretary in the Treasury Department until 1989 when Cochabamba, beckoned once again and where she served as the administrator at Casa Rosario, Bolivia's Center House and registrar at the Maryknoll Fathers' Language Institute. She returned to the Maryknoll Sisters Center in New York in 1993 where she worked as secretary in the Personnel Department. In 1997, at the age of 81, she retired. She was assigned to the Maryknoll Sisters Residential Care Unit in 2007 where she took "Priests" as her special prayer ministry.
Jeremie had a famous quote looking at a particular assignment she was given, when she said, "I'm in the Prime of Life…it just takes longer to get primed."
Now Jeremie has finished the "priming," and is at peace with God, having died on April 21, 2012 in Maryknoll Residential Care IV, having been a Maryknoll Sister for 73 years. May she rest in peace.
We welcome Sisters' friends who are with us today and our Maryknoll  brother, Father Bill Coy, who will preside at this Liturgy of Christian Burial.