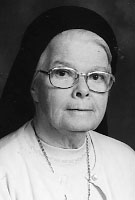 Sister Marie Jogues Coffey, MM
Born: May 28, 1905
Entered: December 21, 1930
Died: December 6, 1996
"The Lord is coming from heaven in splendor to visit His people, and bring them peace and eternal life."
– Entrance Antiphon of Mass of St. Nicholas
"If death seems imminent I do not wish to be admitted to the hospital, and if I am in the hospital I wish to be discharged to be at home with my Maryknoll Sisters."
Well, dear "Sister Joguesie" you had it your way, but God had an even better scenario. He took you at your word, and let you slip away surreptitiously at 1:40 a.m. on December 6th, the feast of St. Nicholas, with Rose Marie and Emmanuela, members of your faithful nursing staff by your side. You were at home, you were surrounded by your Maryknoll Sisters asleep in their beds, you were in your own room surrounded by all of your favorite things and mementoes, from your family pictures right down to the last collector's item of your life. It could not have been better. Except you deprived us of the opportunity to herald your way out of this existence with our prayers, rosaries, and singing of the Salve Regina.
Mae Agnes Coffey was a New Yorker from Day One! On May 28, 1905, she came into the world at Troy. Catherine McWilliams and Thomas Joseph Coffey were her parents and both native upstate New Yorkers. She had a brother and a sister. Her birth certificate identified her as Mary Coffee – C-o-f-f-e-e (as in first item of one's day). By the time she was baptized seven days later she was Mary A. Coffey (as in her legal name today). 'A' was for Agnes. When she was confirmed in October 1915 she was Mary Catherine Coffey. When she applied to Maryknoll in November 1930 she was Mae A. Coffey. When she was received as a Novice in 1931 the name of Sister Marie Jogues was bestowed on her.
After her graduation from St. Joseph's Academy at Troy she entered the business world until her entrance to Maryknoll on December 21, 1930. She made her first Profession of Vows on June 24, 1933, and Final Vows three years later, both at Maryknoll, New York. She earned a Bachelor of Education degree at Maryknoll Teachers College. Education was important to her, and through the years she sought to enhance her teaching ability, academically as well as theologically.
Her first assignment was to Hawaii in July 1938. It was also her mission until 1975 when she returned to the mainland and took up residence at Monrovia, California convent. For one year, July 1978 to July 1979 she ministered to the elderly at Schenectady, New York. Then it was back to Monrovia until her requested return to the Center in 1992, as she began to realize her physical diminishment.
She was always happy at any assignment which came her way, but teaching had a high rating with her – Maryknoll schools in Punahou, Maui, Waialua, Waikiki, and ministry at Kalihi Valley Housing. She found joy and friendship at all of these assignments in the Paradise of the Pacific. Her address book attests to the love and appreciation of all whose lives touched hers.
At Monrovia she settled into the happy life of ministry, service, family, friends and all of those other nice things which are God's precious gifts to us.
In 1968 she had answered a questionnaire by saying among other things that she would like to learn to sew since she was then in an age bracket which marked her as 'an older Sister' and soon the day would come when full classes to teach would no longer be within her physical capacity. At Monrovia the Senior Citizen Center offered sewing classes. So each Wednesday morning, armed with dressmaking supplies and good will, four stalwarts set out to deal with Singer Sewing Machines and a patient teacher. They became known as the 'sewers' – pronounced sooers – as it was easier to collect them under that name, assemble them in the staging area at the front of the convent, bundle them into the car, and then point them toward the front gate. At the end of the school year a fashion show was held at the local high school. One night in a euphoric state from the fine clothes which had come forth from our budding Christiana Diors one of the drivers in her haste to be present inside forgot to lock the car. Yes, the car went A.W.O.L. Our workmen and others gave us no encouragement about its return as they just knew it was headed for South of the Border where it would earn many pesos for the seller. But they reckoned without the Sisters' implicit trust in St. Anthony. In the 'borrowers of the car' urgency to remove our newly-purchased five-day-old tires, they did not realize that the trade-offs did not have enough tread to get them to the border. So three weeks later two sets of our Southern California peace officers found our discarded piece of equipment just short of the Mexican line. It was returned to the Monrovia Car Graveyard, only able to navigate by a screwdriver in the ignition. Not to be daunted, Sister Marie Jogues signed up at once for the next September class!
Sister had class, elegance and dignity. She wore her Maryknoll habit with pride and joy. When the traditional habits metamorphosed into contemporary dress, she very carefully chose her new apparel; most of it coming from the work of her hands. She was a very fine needlepoint plyer. Knitting was also a favorite as well as crocheting. The Monrovia Maryknoll Guild mourned her move to the east as they lost one of their biggest and best contributors to the handwork booth. She was no doubt with them in spirit on Sunday, December 8th, as they faithfully continued to give themselves again to this project which she had encouraged them in.
One of the remarkable things about Sister was her hearing. She was lovingly called "Ears" as we were almost sure she could hear a gnat open its eyes. She was a good checkpoint for anything that may have been missed by others in a homily, tv note, etc. However, during the last six or eight months of her life this became a trial as she experienced the almost total loss of the faculty which had brought such joy to her years. Her positive attitude toward life enabled her to continue whatever she could in community celebrations – daily and special liturgies, dinner in the main dining room on special occasions, or just informal get-togethers.
We often read that "we should have at least one or two special friends in our lives." She had one in Sister Hildegarde Ryan. Their mission assignments had been somewhat parallel over the years, but they were finally separated in 1992 when Sister Jogues came to the Center. AT&T benefited as there was almost always a weekly call to keep in touch.
Another special friend was Mrs. Edith Scruggs of Claremont, California. Edith was in the dog-grooming business in the Beverly Hills area. She lived out in Los Angeles county and was a daily Mass attendee. While Sister visited Joe's home in Claremont she met Edith at church. They had worshiped together for many days and one morning Edith approached Sister as she noticed her awaiting a cab after Mass to return to Joe's. That was the seed of an encounter which grew into a warm and very happy lasting friendship. Edith also had a home at 6,000-foot Lake Arrowhead. Sister Jogues would toss caution to the winds as she set off with Edith for this or some other great treat which Edith provided. Our final words as she went out the front door were not "Have a Good Day" but "Do you have your Medicare Card?" Edith has visited the Center several times much to Sister Joques' delight.
Her family was a source of great joy to her – Margaret, Joe and Tom. They were an important part of her life and she reveled in their letters and telephone calls. Her conversations after such were always colored with the events in their lives.
We thank our Maryknoll brother, Father John Hudert for being with us and presiding at this Liturgy of the Resurrection.