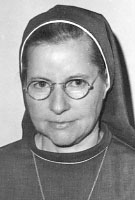 Sister Marie Juliette Puthoff, MM
Born: September 24, 1910
Entered: October 18, 1928
Died: December 2, 2001
Sister Marie Juliette Puthoff died peacefully on Sunday, December 2, 2001, in the Residential Care Facility at the Maryknoll Sisters Center in Maryknoll, New York. She was ninety-one years of age and had been a Maryknoll Sister for seventy-three years.
Alma Rose Puthoff was born September 24, 1910, in Cincinnati, Ohio. She was one of seven children born to John and Mary Josephine Puthoff. Alma attended Holy Trinity Elementary School, Holy Trinity Commercial High and Juliene Central High School in Dayton, Ohio.
Alma became interested in religious life and specifically in mission work while still in elementary school. In high school, she corresponded with Maryknoll and made the decision to apply for entrance. She wrote: "I chose Maryknoll because it was an overseas mission organization as well as a religious community. Both of these strongly attracted me from my very early years."
Alma entered Maryknoll on October 18, 1928, at Maryknoll, New York. Through Alma's influence, her brother Charles also became interested in Maryknoll. He entered the Maryknoll Brothers in January 1930 and was given the religious name of Brother Bernard at the time of his oath.
At Reception, Alma received the religious name of Sister Marie Juliette, a name that she would retain for the rest of her life. She made her First Profession of Vows January 6, 1931, at Maryknoll and her Final Profession of Vows on the same date in 1934 in Honolulu.
Sister Juliette was assigned to Hawaii in 1931. She would spend most of the next fifty years in educational ministry in Hawaii. All of this time was dedicated to elementary school education. While in Hawaii, Sister Juliette continued her education. She received a Bachelors of Science in Education from Mary Rogers College in 1964.
Sister Juliette spent many years as a first grade teacher. She loved teaching and was always willing to spend extra time with students who were experiencing difficulties. Sister felt that the early foundation experience, especially in reading skills, could make a tremendous difference in a student's later academic performance. An often articulated goal of hers was to strive to learn new teaching techniques so that her students could benefit from her knowledge. Sister delighted in the growth and development of her young students. Among her papers she kept a poem written by a long-ago first grade student:
The grass is green
I am pink
The grass can grow
But I can think
It was this ability to think for themselves that was the priceless message that Sister helped her students discover. From the words of this young poet it is clear that Sister Juliette' s students learned that lesson.
In Hawaii, Sister Juliette taught first at St Anthony's Kalihi then Maui, Wailuku and Punahou. In 1954, she was assigned to the Marshall Islands where she taught elementary school on Likiep until 1957. Returning to Hawaii, Sister taught at St. Ann's in Kaneohe until 1981. The pioneer Maryknoll women who went to Hawaii in those early years made a tremendous contribution to the development of the Catholic school system in Hawaii. Sister Juliette wrote: "The Church in Hawaii has made great progress through the years. I have been very happy to have had some small part in this progress."
In 1981, for health reasons, Sister Juliette requested assignment to Monrovia. She looked forward to having the opportunity to be in closer contact with her brother, Charles, Maryknoll Brother Bernard, who was working with the Japanese in Los Angeles. Brother Bernard died in Los Angeles in 1983. In 1987, Sister Juliette returned to Maryknoll to the Residential Care Facility.
Sister Juliette described what she treasured most in her long life as a Maryknoll missioner. She wrote: "It is the joy of spending my life in the service of the Church thereby sharing in the mission of Christ in the company of so many other Maryknoll members that has been a great gift in my life. I envision great things for Maryknoll in the future, all in line with Christ's mission of love and service to all people especially those who are most in need."
We offer our deepest sympathy to Sister Juliette's family. We regret that they were unable to join us this morning.
We welcome our Maryknoll brother, Father Thomas McDonnell, who will preside at this Eucharistic Liturgy of Christian Burial as we lovingly remember our Sister Juliette.