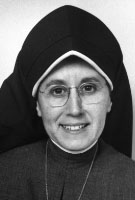 Sister Marie Lambert, MM
Born: March 19, 1919
Entered: September 6, 1948
Died: June 13, 1999
We gather this morning to celebrate the life of our Sister Marie Lambert who died peacefully in Maryknoll Residential Care on Sunday, June 13, 1999. She was eighty years of age and had been a Maryknoll Sister for fifty years.
Marie Ernestine Lambert was born March 19, 1919 in Haverhill, Massachusetts. She was the seventh of eight children born to Alfred and Mary Nolin Lambert. She attended South Groveland Elementary School and graduated from South Groveland High School in 1936. After graduation, Marie was employed as a tabulator operator and clerk at Bath Iron Works in Bath, Maine. She attended McIntosh Business College for one year. She became interested in religious life while working in Bath where she had regular contact with a group of Sisters. Marie stated that she was attracted to Maryknoll because "doing God's work, not in your own country but in another country, impressed me."
Marie entered Maryknoll on September 6, 1948 at Maryknoll, New York. At Reception, she received the religious name of Sister Mary Alfred. Her First Profession of Vows was March 7, 1951 and her Final Profession of Vows on the same date in 1954, also at Maryknoll. She attended Maryknoll Teacher's College where she received a Bachelor of Education Degree in 1954 and was assigned to Chile that same year. Marie would spend the next fifteen years teaching elementary and high school. Her welcoming, light-hearted manner helped to make her a teacher whose classroom the children were happy to enter. Sister Marie returned to Maryknoll in 1969 for Congregational Service in the Development Department as a promoter.
Sister Marie returned to Chile in 1972. The Chilean Bishops had begun an adult catechetical program through which the parents of children preparing for First Communion had to participate in a weekly group session for a two-year period. Marie, always ready to respond to the needs of the people with whom she worked, eagerly responded to the call for pastoral workers for this program. She did pastoral work first in Talca and then in Santiago (La Bandera) where she lived with Carol Piette and Ita Ford and also in Puente Alto. She was active in the formation of Basic Ecclesial Communities and also worked with women who were trained as home visitors. Marie had many contacts in Santiago and visited wealthier parishes to offer the people the opportunity to help the poor with whom she worked in the marginalized areas. Marie was known for the thoroughness of her preparation for each commitment. When the time came to close the house she was living in, she carefully set up a structure through which this assistance to the people would continue. She even made sure that the cat was provided for. In December 1984, Marie returned to Maryknoll where she served as Secretary to the President of the Congregation for the next four years.
In 1988, at the age of sixty-nine and after nearly thirty years of ministry in Latin America, Sister Marie volunteered to be one of the first group of Maryknoll Sisters to Nepal. In Nepal, she returned to classroom teaching. She was responsible for teaching English to third, fourth and fifth grade boys at St. Francis Xavier School. A Jesuit observer and evaluator of her English class used the word "magnificent" to describe her performance as a teacher. He commented: "You knew all the boys' names, you clearly taught them to think, not just to copy: you applied the lesson to daily life and asked many questions outside the purview of the text." Sister Marie herself wrote of her experience of teaching in Nepal: "To face a class of very rich and very poor young boys is a living dialogue of my faith, my being and my behavior."
In 1993, Sister Marie moved to St. Mary's School for Girls to continue teaching English. At the age of seventy-five, she began to find the classes, with fifty-five students each, more difficult. In 1994, she decided to return to the United States for retirement and requested assignment to Monrovia in the hope of doing some part-time volunteer ministry with the Hispanic Community. While at Monrovia, Sister Marie served as Eucharistic Minister to the sick and elderly in the surrounding area. In 1997 she returned to Maryknoll to Assisted Living.
Today's first reading from 1 Corinthians:
Love is patient; love is kind…it bears all things, believes all things, hopes all things, endures all things. Love never ends.
offers us a reflection on the life of Marie whose journey in mission led her from the United States to Latin America and then to Asia and finally back to the United States. She is fondly remembered by so many people all over the world whose lives she touched in the classroom, the parish or the neighborhood and in their lives, her love lives on.
We offer our loving condolences to Sister Marie's family and welcome our Maryknoll brother, Father Steve DeMott, M.M., who will preside at this Eucharist of Christian Burial, as we lovingly remember and give thanks for the life of our Sister Marie.