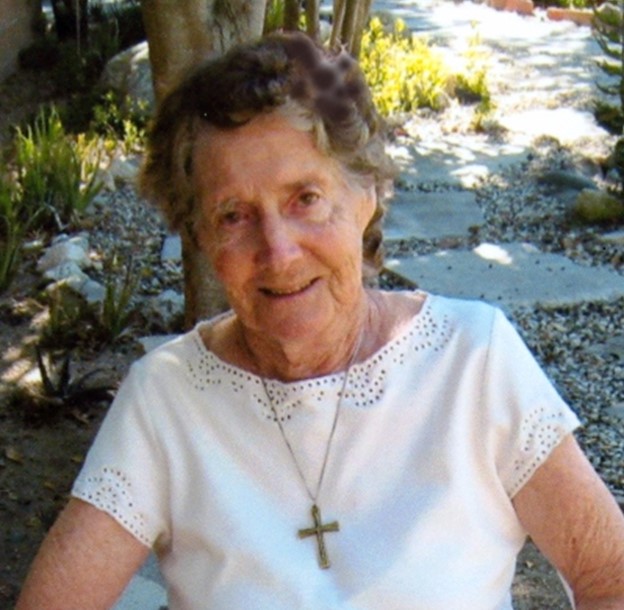 Sister Marie May, MM
Born: November 26, 1928
Entered: September 6, 1950
Died: April 6, 2023
At a time of Jubilee, Marie proclaimed: "I thank God for His faithfulness through the years, and I renew the commitment, which I first made… I promise to serve Him until death by living out the gospel counsels of obedience and poverty and celibacy within the evangelical community of the congregation of the Maryknoll Sisters for the purpose of proclaiming the good news of Christ's universal love in a world-wide context…" 11/30/1975
Sister Marie May indeed, did live Christ's call to universal love in this world until her death on April 6, 2023 at Maryknoll Sisters Center, NY.
Marie Anne May was born November 26, 1928 in Brooklyn, NY to Rose (Glossa) May and Joseph F. May. She had a sister, Catherine May and brothers: Raymond, Joseph and Francis, her twin. All have pre-deceased her.
Marie graduated from St. Angela Hall High School, Brooklyn, NY in 1946. In 1950, she graduated cum laude from St. Joseph's College for Women in Brooklyn with a Bachelor of Arts degree in Chemistry and minor studies in physics and biology. After graduation, Marie trained and worked briefly as a home-study caseworker for adoptions with Angel Guardian Home, Brooklyn, NY. The brief experience in social services and her background in the sciences clearly wove into Marie's ministries in the years to come.
Marie applied to Maryknoll Sisters in 1950. Her interested in mission began in high school. She was encouraged by her confessor and supported by her living family members, father, two brothers and her sister Catherine. Years of missionary experiences were exchanged with her brothers; Redemptorist priests, Joseph served in Brazil and Francis in Puerto Rico before his further call to family life.
Marie entered our Maryknoll Sisters Congregation at Maryknoll, NY on September 6, 1950. She professed her first vows on March 7, 1953, also at Maryknoll, New York and her final vows on March 7, 1959 in Honolulu, Hawaii. Marie's religious name was Sister Amata Marie.
Sister Amata Marie received her first assignment to Hawaii as a community member in St. Catherine's Convent, Nuuanu, Honolulu. Initially she attended the University of Hawaii for courses in Social Work then, for the next 2 years was a case-worker for Catholic Social Services. A clear need surfaced in the Hawaii Region for teachers and, because of her background in the sciences, Sister Amata Marie was assigned in 1955 and for the next 4 year to St. Anthony's in Wailuku, Maui where she taught high school science and religion. Marie had a year of study, 1959 -1960, to further prepare her for her ministry of teaching. She earned a Master's Degree in Biology from Immaculate Heart College in Los Angeles, CA after which returned to Maui to teach science for the next 8 years. All learning was not in the classroom; Maryknoll Sisters and students enjoyed field trips, with Marie, exploring the bio-diversity of islands. Sister took great responsibility for her teaching and held high expectations of her students yet the structure of school and temperament for teaching did not come naturally to her.
Marie was able to return to Social Services. In preparation, she earned a Masters in Social Work in 1970 from Washington University, St. Louis, Missouri. Through Catholic Social Service in Honolulu on Oahu, she focused on family counseling as a roving field worker, covering the rural areas of Oahu and responding to anyone who could not get to the central office. Marie also served on the Regional Governing Board from 1973- 1974.
In 1973, there was an invitation for sisters to consider ministry in Micronesia, then part of the Central Pacific Region. That year, Marie made an exploratory trip to visit Maryknoll Sisters in the Marshall Islands and on Yap. Negotiations began with Bishop Neylon, SJ, Pastoral Vicar for the Caroline/Marshall Islands. It was determined that the greater need for sisters was on Yap, in the western Pacific Ocean. Marie was assigned there in 1974. In A letter to a friend, Marie wrote, "I know I should be feeling scared and apprehensive about what I 'm going into in Yap, but I feel enthusiastic and peaceful instead."
What Marie was going into was a small island nation trying to navigate cultural shifts – changes from subsistence to money economy, fragmenting family systems as men left villages and even Yap for employment while leaving traditional roles and mentoring behind, and changes in attitudes toward formal education and religious practices. Alcoholism, drug abuse, delinquency, and parenting role shifts resulted in increased incarceration and suicides.
Marie was part of a small Maryknoll Sisters' community, residing in the district center where most of the pastoral, health and educational ministries were concentrated.  But Marie's focus went mainly to villages.
In 2010, Yap State Government sent a resolution in recognition and gratitude for Marie's dedicated commitment to the people of Yap State. It sums up well much of Marie's attention during her 37 years in Yap. "Upon her arrival she was tasked to fulfill the need in providing a variety of activities in the area of social services… and has been instrumental in providing programs and counseling for various social issues in mental health, substance abuse, family life and needs of children, and also started jail visit programs for alcohol  related problems; … "Touplay Yefas", a worthwhile and much applauded (agricultural cooperative) program which is established as an assistance to young adults in the community to achieve their full potential…." Additionally, Marie initiated Bible Study and prayer groups, trained outreach workers to visit the elderly, reached into schools for teacher workshops in societal concerns and early parent preparation classes for 8th grade students. Marie assured that materials were available in the Yapese language. While she did so much, Marie kept a humble wisdom. She wrote:  "…in the long run, any work that is enduring will have to be undertaken by the Yapeses people themselves…My role becomes a temporarily enabling one, often more of a consultant than a director."  St Borromeo Parish Monthly 1979, Brooklyn Heights, NY.
Marie, was shy, brilliant, conscientious, sought understanding, lived simply, was a great letter writer and had a delightful sense of humor. She greatly valued community, friends and loved her family.
What was also clearly important and sustaining for Marie, was her attention to spiritual life, faithful to prayers, retreats, current theological readings, and renewal programs. She so simply and profoundly pondered in a letter that it was impossible not to be close to God in nature.
Marie left Yap in 2011 when Maryknoll Sisters planned withdrawal due to fewer numbers. She moved to retirement in Monrovia, CA. In January of 2015, Marie returned to Maryknoll, NY for some needed assistance and later into Maryknoll Sisters Residential Care. Her designated Prayer Ministry during those years was for prisons.