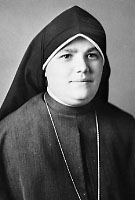 Sister Marie Mediatrice Botelho, MM
Born: January 18, 1912
Entered: June 1, 1933
Died: March 19, 1948
Sister Marie Mediatrice (Agnes) Botelho, died March 19, 1948 at St. Francis Hospital, Honolulu.
Sister was born at Olaa, T.H. January 28, 1912 and attended public and private schools in Honolulu and entered Maryknoll June 1, 1933. She was received January 6, 1934 and professed January 6, 1936.
After profession Sister was assigned to Heeia, Hawaii and later taught school at Punahou, where she kept busy although in poor health until her death.
After becoming very ill, Sister was taken to St. Francis hospital where she died on March 19.
She bore quietly and without complaint her sufferings. If God had seen fit to heal her, it would have made her very happy, for she loved life. But never did she rebel at His will for her.