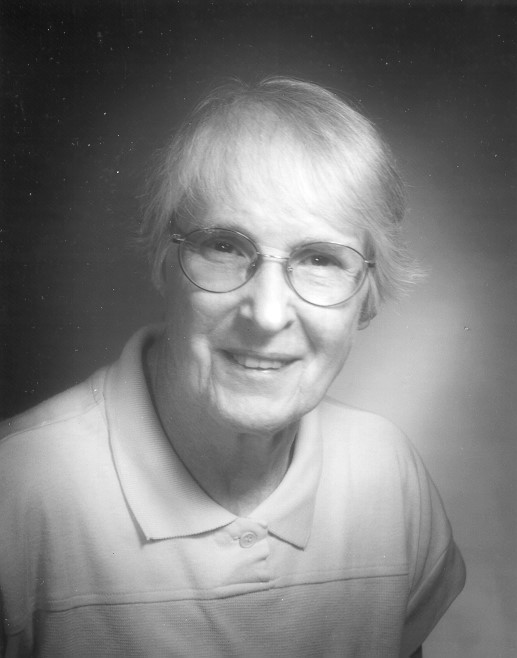 Sister Marie Morgan, MM
Born: February 14, 1928
Entered: September 6, 1945
Died: November 23, 2020
Sister Marie Morgan died at 6:40 PM on November 23, 2020. The community shared feelings of loss but also rejoicing that Marie's long journey had ended in peace.
Born February 14, 1928, Marie was 92 at the time of her death; she had been a Maryknoll Sister for 75 years. Marie was born in Pittsburgh, PA one of eight children born to Leo F. Morgan and Rose M. (Gauscheman) Morgan: Bernard, Rev. Julian C.P., Joseph, Daniel, and David. The family lived in the St. Canice parish, and Marie graduated from St. George High School in Pittsburgh in 1945.
Marie entered the Maryknoll Sisters on September 6, 1945 at Maryknoll, NY at a time when the country was moving out of the pain of WWII. Hers was one of the large groups of young women who were caught up in the desire to serve God, to help make a better world, and, as Marie wrote, "to help people who have been spiritually and physically neglected."
At her Reception into the community on March 7, 1946, Marie received the name Sister Rose Bernard. After two years of Novitiate, she pronounced her First Vows on March 7, 1948 at Maryknoll, NY. Sister spent a year in the Maryknoll Seminary kitchen and in 1949 entered the Fordham University School of Pharmacy where she received her Bachelor of Science Degree in 1953. A year of ministry followed at our nearby Bethany Convent for retired and ill Sisters. On March 7, 1951 Marie pronounced her Final Vows at Maryknoll, NY.
In 1954, Marie was among the Maryknoll Sisters assigned to staff Queen of the World Hospital in Kansas City, MO, one of the first in the USA to welcome black American professional staff and patients. Marie managed the hospital pharmacy for 12 years. Because segregation was in effect in Missouri, her wish to serve the physically neglected and marginalized was fulfilled here in her own country. When it became evident that the hospital was no longer needed, and as she began to close out her department, she wondered where such a specialized occupation as hers might be needed. She explored the emerging needs for contemporary women who were internalizing the new theology of Vatican II and thinking beyond the institutional model of missionary service. While doing this research, she was asked to go to our retirement house in Monrovia, CA to manage the pharmacy there in 1966.
In 1967, Maryknoll was planning to open a hospital in a remote part of the western highlands of Guatemala and Marie was invited to begin language study and prepare for life in the altiplano of Guatemala. Once there, she was able to combine both pharmacy service and pastoral work for five years with Sister Alice Morrison and Fr. David La Buda, MM. From this time on, Marie was drawn to promoting pastoral leadership among adults with both catechists and youth groups. Her ministry opportunities took her to Sta. Ana Parish in Guatemala 1976-1980, Mexico City in 1983 and Chiapas, Mexico from 1984-1987 working with Basic Ecclesial Communities (B.E.C.). Marie moved to El Salvador in 1988 for five years for work with youth and B.E.C.s, and returned there for AIDS ministry 1997-2010. During her renewal periods, she studied and planned for programs designed to assist her ministry. In between, from 1974 to 1976, Marie gave Mission Service on promotion, sharing with US Catholic parishes the Maryknoll Sisters' mandate to make God's love visible as well as serving in Health Services at the Center and the Aids Task Force returning to El Salvador until 2010. Because of diminishing health, Marie was invited to the Center in 2010 and in this time she completed a history of El Salvador for our Archives. In 2018, she joined the Chi Rho Community, where she developed her artistic side, as evidenced by her lovely note cards, both acrylic sketches and photos. She also wrote poetry and thoroughly enjoyed playing bridge.
Marie's friends saw her as reflective, a bit tentative, meticulous, tenacious…can one be all these things? She did her homework: she was as dogged about getting official papers updated for residencias civiles as she was about tracking down citations for her El Salvador history and in keeping abreast of pharmacopeia. She managed her many illnesses with a certain objectivity; most recently, she made a decision to forego further surgery. She resolutely prepared herself for her final journey, graciously accepting a pain management program to see her through.
Today, we celebrate her life and recall with her family and friends what we know of her journey, sharing what Sr. Anastasia Lott wrote in her e-mail announcement to the Regions: "Having lived through many different tumultuous moments in history, may she now know fullness of peace in God's loving presence."
Sister has generously donated her body to science. Due to the Covid 19 a Memorial Service is being held at the Maryknoll Sisters Center on Wednesday, December 16. 2020.