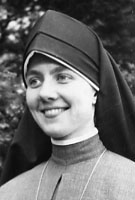 Sister Marie Murphy, MM
Born: July 16, 1923
Entered: October 5, 1946
Died: January 8, 2011
We would like to welcome all who have joined us for this Liturgy to remember and celebrate the life of our dear Sister Marie Murphy, who died peacefully on January 18, 2011, in Maryknoll Residential Care IV. She was 87 years old and had been a Maryknoll Sister for 64 years.
Marie was born on July 16, 1923 to Mary Anne (Polsenski) and Thomas J. Murphy in Yonkers, New York. She had one brother and one sister. Her parents have long predeceased her.
Marie graduated from St. Barnabus High School in New York City in 1941. She then studied one year at the College of New Rochelle in New York. Marie later received a Bachelor of Education Degree from Maryknoll Teachers' College at Maryknoll in 1951.
Marie did clerical work for four years at the New York Central Railroad Company in New York City before entering Maryknoll from St. Margaret of Cortona parish on October 5, 1946. At her reception she received the religious name Sister M. Jane Cordis. Following Vatican II she returned to her baptismal name. She made her First Profession of Vows on April 6, 1949 at the Maryknoll Sisters Center in Ossining, NY and her Final Vows on the same date in 1952 in Yucatan, Mexico. Sister Marie was a loving, prayerful person, always ready to serve.
Marie was assigned to Middle America in 1951 where she taught Primary grades at Maryknoll Sisters Rogers School in Merida, Yucatan, Mexico, in Peto and in Tzucacab also in Mexico until 1963. In this teaching ministry, she was much loved. Today, almost 50 years later, people in Merida still remember her with gratitude, inquire about her and have sent her their good wishes.
She was assigned to Guatemala in 1964 where, for one year, she taught English in the Jesuit High School. She spent the year 1965 at the Maryknoll Sisters Cloister in New York, and then returned to Merida, Yucatan, Mexico. Sister spent the next three years, from 1968 to 1971, at the Cloister. Returning to the active Maryknoll Community, Sister Marie worked as secretary to the Director of the Physical Plant at the Maryknoll Sisters Center. In 1973 she studied at Grasslands Hospital in Valhalla, New York earning her diploma as a Licensed Practical Nurse.
In 1974 her mother's failing health necessitated that Sister Marie request permission to undertake Family Ministry. During this time she also worked at Frances Schervier Home and Hospital in the Bronx in Nursing Service. Following her mother's death in 1987, Marie became a member of the Eastern Region and continued to work in the Bronx in Public Health until 1993. From 1994 to 2002, she did nursing service in Tarrytown, NY.
In 2003 Sister Marie's failing health required her return to the Maryknoll Sisters Center. She expressed great joy in coming "home." She wrote, "I would like to say how deeply grateful I am to have received my official assignment to the Center. Life here is pure Gift of God, and just as Mother Mary Joseph had so ardently desired."
Sister Marie had a deep love of Mother Mary Joseph often expressing admiration and reverence for her. In a letter to the leadership also in 2003, she described who Mother Mary Joseph was for her. Obviously, Mother Mary Joseph had often been the subject of her thoughts and love.
"Mother was an extraordinary woman of her time, strong, capable, intelligent, deeply spiritual, genuinely humble, and self-effacing, all gathered into a joyful personality that embraced everyone who knew her."
In 2005 Sister Marie was assigned to Maryknoll Residential Care Unit where she resided until her death. During this time her Prayer Ministry was for Maryknoll Vocations. We wish to express our thanks to the staff of the Residential Care Unit that so graciously cared for Sister during her long illness.
We are very happy to have Sister's family with us and we extend our condolences to her nephewd, nieces and other relatives and friends.
We also welcome and thank our Maryknoll brother, Father Joseph La Mar who will preside at this Liturgy of Christian Burial.