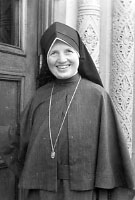 Sister Marie Noel Shaughnessy, MM
Born: March 23, 1908
Entered: April 5, 1930
Died: April 4, 1979
Each moment is a special gift of God's revelation and He chose a very poignant one for Sister Marie Noel Shaughnessy's entrance into eternal life. On April 5, 1930, Louise Shaughnessy entered Maryknoll and at 11:40 p.m. on April 4, 1979, she was welcomed by her Lord and our Maryknollers in heaven.
Over the years she gave herself cheerfully, serving at Punahou, Wailuku and Waikiki from 1935 – 1949. Then Sister was assigned to California where she did teaching and catechetical work at Los Angeles, Stockton, Capistrano and Tuscon (1949 – 1957). St. Augustine's in Waikiki welcomed Sister back as superior and principal from 1957 to 1963 and then Sister returned to Punahou and continued teaching. When it became necessary to reduce the class load, Sister kept in touch with the children through her math class, by relieving the office staff during the noon hour and by organizing a group of parents to handle the snack bar. Her spirit of hospitality was well loved. When asked if she still loved teaching, Sister's response was, "I think being with children keeps you young."
The young ones paid a moving tribute at the celebration of the Resurrection liturgy by enacting in sacred movement the song, Abba Father, You are the potter; we are the clay.