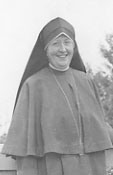 Sister Marie Rosaire Greaney, MM
Born: July 2, 1902
Entered: June 10, 1920
Died: July 12, 1972
On August 4, 1972, Sister Marie Rosaire Greaney would have celebrated the 50th anniversary of her religious profession. It was not granted her to join her Sisters here on earth for this Jubilee celebration; rather the One to whom she consecrated her life so generously for over 50 years called her to Himself "to His Holy City, the New Jerusalem where there is no more death, nor sorrow, nor crying, nor pain; where all things are made new and where God is All in All."
Mary Agnes Greaney, known in Maryknoll as Sister Marie Rosaire, was born in Jersey City, New Jersey, on July 2, 1902. She spent her childhood there where she attended St. Joseph's Parochial School for nine years. She entered Maryknoll on June 10, 1920. She was received on December 8, 1920, made her First Profession on St. Dominic's Day, August 4, 1922, and made Final Vows on August 4, 1925. Later she completed her high school education at the Venard, received her teaching certificate from Maryknoll Teacher Training School in 1934, and in 1946 completed the work for a Bachelors of Education at Maryknoll Teachers Collage.
Sister Marie Rosaire spent most of her active apostolic life on the West Coast of the United States. She was most happy when she was teaching little children. Those who observed her teaching in Los Angeles think of her as a teacher far ahead of her times. Sister practiced individualization of instruction long before this became a common educational form. Individualization was her natural approach to people. She thought of each child as an individual and manifested personal interest in each by being attentively aware to the slightest detail of their little personalities. Children loved her. She was very personable and found delight not only in working with children but also expressed great satisfaction in her work with adults especially in the Legion of Mary. By nature she was positive. She loved to talk and the conversation always stressed the positive side of a situation.
Although Sister could have pitied herself because of frequent and long bouts with poor health and major treatment, she made a real effort and succeeded in maintaining a positive attitude toward life which she obviously loved. Because of poor health, Sister was assigned to Bethany on June 30, 1967. When informed by the doctor of the seriousness of her condition, she received the news calmly, with a sweet smile and total acceptance. Several Sisters recited the rosary to which she had always been especially devoted. She received the Sacrament of the Sick and the consolation of two other priests who were in the hospital and who came in to bless her. Towards the end it was evident that she was asking for something, a simple little request: Would the Sisters please recite her favorite Psalm and sing a little Hymn. The six Sisters present prayed "The Lord is my Shepherd" and sang Deiss' "Keep in Mind." She listened quietly and was obviously pleased. After this, Sister said she was tired and thought she would like to sleep for a little while. Shortly after 8:30 p.m. on July 12, sweetly resigned and completely uncomplaining about either pain or discomfort, Sister Marie Rosaire went home to God.
Both of her sisters were with her in her last hours.
Please remember Sister in your prayers alone and in community so that she may find her delight immediately in God her Saviour, whom she loved and served so long.