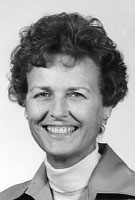 Sister Marilyn Norris, MM
Born: September 15, 1933
Entered: December 30, 1958
Died: February 24, 2006
Almost immediately after the laying on of hands in prayers of blessing and thanksgiving by her Maryknoll Sisters and the Anointing of the Sick, Sr. Marilyn Norris breathed her last and entered into eternal joy in her Lord. It was Friday, February 24, 2006, at 7:30 p.m. (East African Time), at the Maryknoll Sisters' Africa World Section House in Nairobi, Kenya. In spite of great suffering, Marilyn remained alert and conscious of all that was happening to her and knew everyone around her right to the end.
A few days before her death, Marilyn had asked to go home from the hospital and so, on Wednesday afternoon, February 22, she was brought home by ambulance, to be welcomed there by her Maryknoll Community and her brother, who had come from the U.S. the week before. Marilyn was taken to her room to rest but, when she heard our voices in the next room, she insisted on being put in a wheelchair and came out to "join the party." All signs of the suffering from her illness were erased from her face as she sat smiling among us for a short while. "It is so good to be home," she said.
Marilyn Norris was born in Honolulu, HI on September 15, 1933, to Edgar W. Norris, M.D., and Cecile Fox Norris. She is survived by her much-loved twin sister, and two brothers. Dr. Norris was in the United States Public Health Service which made it necessary for the family to move frequently. Ultimately, they settled in San Francisco, CA where Marilyn attended St. Brigid's High School (1947-1951). She then went to San Francisco College for Women from 1951 to 1953. In 1953, she was accepted at the Stanford University School of Nursing, graduating in 1956 with a Bachelors of Science Degree in nursing.
Marilyn entered the Maryknoll Sisters' Novitiate at Valley Park, MO on December 30, 1958, where she received the religious name, Sr. Mary Deirdre. She made her First Profession of Vows on August 22, 1961, also at Valley Park, MO and her Final Vows on August 22, 1967, in Hong Kong.
During 1962, Marilyn was assigned to the nursing staff at Maryknoll-Bethany House for one year. In 1963, she received her first overseas assignment to Hong Kong where she served from 1964 to 1966 at Our Lady of Maryknoll Hospital. In 1966, Marilyn and Sr. Anne Reusch moved to Kowloontong, a very poor, back alley area, to minister to Chinese refugees by setting up a clinic and home nursing program. From 1968-1974, she worked with Caritas, Kowloontong in an ecumenical project for community development.
In 1974, Marilyn returned to Maryknoll, New York, for Congregational Service in the Development Department. There she was Promotion Supervisor and Director of what was then known as "Foundations." With the aid and guidance of Fr. Norbert Rans, M.M., her longtime mentor and friend, she transformed the latter into the Office of Major Donors/Mission Projects Funding, where one of her first challenges was securing funds to renovate the fourth floor as the nursing home.
In 1980, it was time to return to mission overseas, not to Asia, but to the Kenya/Sudan Region in Africa. Marilyn went to Juba, Sudan, where she worked as Administrator for the German Leprosy Relief Association's program until 1982. In 1983, Sr. Mary Ellen Manz joined her in a new mission, Kworijik-Luri, in the Archdiocese of Juba where she set up a parish clinic and trained several young men to assist her in ministering to the sick.
Due to the war in South Sudan, the Sisters were forced to move many times, always to begin anew, trusting that all was part of God's plan. In August 1993, Marilyn, along with Sisters Ruth Greble, Nancy Lyons and Mary Ellen Manz, were forced to leave South Sudan by the government. However, on June 30, 1994, they returned to South Sudan again with Sr. Joan Sauvigne, this time into the rebel-held Diocese of Torit.
Marilyn's experience of moving frequently during her childhood served her well whenever it was necessary to pull up stakes at a moment's notice due to the war: From Kworijik to Juba in 1988; Juba to Loa Parish in 1994; Loa to Chukudum Parish in 1995; and Chukudum to Nanyangachor in 2000, where she has ministered lovingly to the sick and dying among the Toposa people until one month ago, January 2006.
Those of us who know and love Marilyn will remember her always for:
-her courage in the face of danger;
-her loyalty to us, her Sisters in community;
-her kindness and sympathy toward the sick and dying in her care;
-her deep spirituality and detachment;
-her strength and openness about what she believed in;
-and her unwavering faithfulness to her commitment as a Maryknoll Sister  and daughter of Mother Mary Joseph.
We extend our condolences and deepest sympathy to Marilyn's twin sister, her brothers and family.
We welcome gratefully at this Mass of Christian Burial Bishop Paride Taban, Bishop Emeritus of the Torit Diocese; Bishop Akio Johnson, Apostolic Administrator of the Torit Diocese; the Torit Diocesan Priests and Personnel; Fr. Tim Galvin, S.S.P., the Pastor of Marilyn's Parish in Nanyangacor in South Sudan; and Fr. John Conway, M.M., all the Maryknoll Sisters, Priests, Brothers, Lay Missioners serving in Africa, and her many other Friends who have graciously come to celebrate Sister Marilyn's life and love.