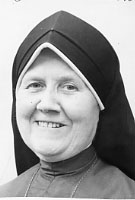 Sister Mary Agnes Connor, MM
Born: February 6, 1895
Entered: October 15, 1926
Died: March 30, 1993
Good Morning, everyone, and welcome to this Liturgy of the Resurrection for Sister Mary Mechtilde Connor. A legendary creator of parodies, she herself provides us with the basic introduction for her Eucharistic celebration.
"'Tis with joy we're singing this morning
Hearts tuned up at the dawning
To greet you in song
For sixty-seven years long
Side by side."
It is our privilege today to lead our Sister Mechtilde to her heavenly home where at last she has found her room! On March 30th at 6:10 a.m., Sister Mechtilde died. She was 98 years old, had danced her last jig on St. Patrick's Day, and had been a Maryknoll Sister for 67 years.
Mary Agnes Connor, known as "Mollie" in the family was born of Irish parents on February 6, 1895 in Jarrow-on- Tyne, England. Her parents, Michael and Anne Clinton Connor, also had a son, Patrick.
Mary Agnes was brought up by the Sisters of St. Vincent de Paul and completed eight years of formal education at St. Mary's Primary School in England. In 1911, when she was 16 years old, she came to the United States to live with an aunt in Omaha, Nebraska, where she attended Boyles Business College for 8 months. She then went to work as a Bookkeeper and Stenographer for a piano company before entering Maryknoll on October 15, 1926 as a mature candidate of 31.
In her application to Maryknoll she wrote, "I would be willing to do anything asked of me." Throughout her life of almost a full century, she would prove true to her word. Sister Mechtilde made her first profession at Maryknoll, New York on April 30, 1929 and in August of that year was assigned to Manila, Philippines to work at St. Mary's Hall, a student hostel for the University of the Philippines. Sister made her final vows in Baguio on April 30, 1932.
She returned to Maryknoll in 1939 and was assigned to the Venard where she served as First Counselor in 1953. In 1954, she came to live at Crichton House and in the following years, she put her secretarial and bookkeeping skills at the service of the Community, in the Promotion Department, Treasurer General's office, and as Secretary to the Dean of Maryknoll Teachers' College.
Sister Mechtilde had her first decennial in 1958, following which she was assigned to be school and convent bookkeeper in Los Angeles. It was from there that she retired to Monrovia in 1930. Ten years later, at age 95, when she was transferred to our Skilled Nursing Facility on the 4th floor, she had already lived a long and faithful life. The official record is brief but quite complete: "Sister Mechtilde is a very warm person, a good musician, a witty companion, and a diligent worker."
It was here at the Center that all the feistiness contained in her diminutive frame flowered. At five feet two, eyes of blue, she was a song unto herself, effortlessly spinning out rhymes in parody. On the 4th floor she walked around incessantly, looking for her room. Since it was her wont to settle for the first unoccupied bed, it was frequently necessary for the staff to lead her back to her own room which she seemed reluctant to occupy probably because she was never quite convinced that it was indeed her own room. Always intent on having the last word she would invariably retort, "We'll see who's telling the truth around here!" It is said of her that she was never passive! In any argument, when the sparring did not go her way she effectively ended it with the rebuff, "Well, you're not Irish!"
In community, we truly enjoyed Sister Mechtilde. As our gift to her for the goodness and charm of her life – from all who are Irish and those who wish they were – it is fitting that we should give her the last word in this letter of appreciation. She richly deserves it, she who in this world left practically nothing of her own. All her effects fit in one small box. Her earthly treasures were in her heart and in her mind. These are the treasures Sister Mechtilde leaves with us, her community.
In her own words, using the final verse of the parody with which she introduced this Liturgy, we now give her the last word:
"From the time the missions called you
And took you far from the Knoll
You ye ever been with us
One in spirit and soul.
T'was for God and souls that you started
For God and souls that you parted
So whatever betide
With God you'll abide
Side by Side." *
Sister Mechtilde will be missed by her family, friends and our Eastern U.S. Region with whom she was a partner in prayer.
*These verses (slightly adapted) are from a parody she wrote for a Diamond Jubilee celebration, to the tune of "Side by Side."