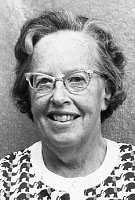 Sister Mary Agnes Dougherty, MM
Born: December 21, 1913
Entered: June 5, 1932
Died: November 12, 2000
"Fear not, for I have redeemed you; I have called you by name; you are mine. When you pass through the water, I will be with you; in the rivers you shall not drown. When you walk through the fire, you shall not be burned; the flames shall not consume you."
Today's first reading from Isaiah beautifully describes Sr. Mary Agnes Dougherty's lifelong commitment to the mission of Jesus and her loving confidence in God's faithfulness that sustained her through more than 60 years in mission as teacher, nurse and pastoral worker.
Sister Mary Agnes Dougherty died peacefully at the Maryknoll Sisters Center, Maryknoll, New York, on Sunday, November 12, 2000. She was 86 years of age and had been a Maryknoll Sister for 68 years.
Mary Agnes Dougherty was born December 21, 1913, in Monterey, California. She was one of two children born to Phillip and Norah O'Donnell Dougherty. The other child was a son. Mary Agnes attended San Carlos Elementary School in Monterey and Holy Names High School in Oakland, California, from which she graduated in 1931. She began university studies at the College of the Holy Names in Oakland but after completing one year as an undergraduate, she made the decision to enter Maryknoll.
Mary Agnes entered Maryknoll June 5, 1932, at Maryknoll, New York. At Reception, she received the religious name of Sister Mary St. Agnes. She made her First Profession of Vows on January 6, 1935, at Maryknoll and her Final Profession of Vows on the same date in 1938 in Honolulu. Sister Mary Agnes was assigned to Hawaii in 1936 after completing her studies for a Bachelor of Education degree at Maryknoll Teachers College. In Hawaii, she taught elementary school for the next five years, first in Heeia and then in Punahou.
In 1941, Sister Agnes was assigned to San Juan Bautista where she did catechetical work in what was then a rural mission. This was close to her family home. Her father had lived in San Juan as a boy and many of the people with whom Sister worked had grown up with her father. They loved to remember the good times they had enjoyed together as children. While at San Juan, Sr. Agnes took a nurse's aide course for the Red Cross. The instructors made it clear that they felt she had great ability for nursing and should be encouraged to continue in nursing school. Sister Agnes admitted that she loved the course and that becoming a nurse was a lifelong dream of hers. Even when she was teaching in Hawaii, she was always ready to help care for Sisters who were ill. In addition to her classroom responsibilities, she volunteered at Leahi Tubercular Home.
In 1943, her lifelong desire to study nursing would become a reality. Sister Agnes was assigned to Seattle to study nursing at Seattle College. She received a Bachelor of Science in Nursing in 1946. Sister returned to San Juan Bautista briefly and then was assigned to Monrovia where she worked as a nurse caring for patients with tuberculosis. The patients were sorry to see her leave after one year as she was remembered both for her many kindnesses to them and as an excellent nurse. Sister went to Maryknoll where she served as a nurse in the infirmary doing special duty nursing for post-operative Sisters.
Sister Agnes returned to classroom teaching in 1950 when she was assigned to St. Anthony's in the Bronx where she taught grades 7 and 8. She was described as "helpful, loyal, generous and an excellent teacher." After five years at St. Anthony's, Sister Agnes was asked to study in the nurse-anesthetist program at St. Francis Hospital in Hartford, Connecticut. She received her certificate in 1956 with the recommendation of the Chief of  Anesthesiology: "Her work has been of a superior quality." Sister Agnes was assigned to Queen of the World Hospital in Kansas City where she worked as a nurse-anesthetist as well as an instructor of anatomy and physiology in the School of Practical Nursing.
Sister Agnes resumed teaching in 1957 when she was assigned to Los Angeles. In 1966, at the age of 53, she requested assignment to Africa. She went to Tanzania where she taught first in elementary school and later as a tutor in a teacher training college. From 1971-74, Sister Agnes taught mathematics in a girl's secondary school in Zambia.
Sister Agnes returned to the U.S. in 1974 and did pastoral work, first in Gallup, New Mexico, then in Sacramento, California, and finally in Carthage, Mississippi, where she would spend 12 years. She was happy to spend her years of semi-retirement with the people of rural Mississippi. She was touched by the poverty of the people she met and the difficult working conditions they experienced in the local factories. She wrote:
"One of our parishioners has been putting in zippers for 14 years. Her allotment is 2000 zippers a day. The supervision of their work is extremely rigid. The workers who are able to produce above their allotment are given a yellow ribbon which gives them a few minutes extra time at breaks. Those unable to meet their allotment receive a blue ribbon which means they lose break time. These women are in constant fear of losing their jobs which they desperately need as many are the sole support of their families.
We invited the women to join a woman's club to offer them a chance to relax and socialize together. The group decided that they wanted to work on craft items for Christmas in the hope of earning a few extra dollars. The women had fun working in teams on this project. Our profits to date have been good and the women in the club are so proud of what they have been able to accomplish by working together.
We offer our deepest sympathy to Sister's family. We welcome our Maryknoll brother, Fr. Frank Diffley, who will preside at the Eucharistic Liturgy of Christian Burial, as we lovingly remember our Sister Agnes.