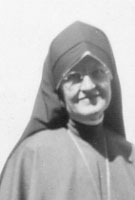 Sister Mary Agnes Hughes, MM
Born: December 29, 1900
Entered: October 17, 1922
Died: February 21, 1977
Sister Mary Agnes Hughes died at Bethany at 2:25 a.m. on Monday, February 21. Vespers for her was offered by the Community here on Tuesday evening and the funeral liturgy with burial took place at our Center on Wednesday, February 23, 1977.
Veronica Marie Hughes was born in the town of Oak Creek, Wisconsin, on December 29, 1900, child of Margaret and William Hughes, who raised a family of eight children. Veronica attended a Carrollville, Wisconsin public grammar school and was graduated from South Milwaukee High School. She first heard of Maryknoll through the "Field Afar" magazine. Although her parents and friends encouraged her to enter a religious order whose work was close to home, she felt strongly that God had given her a call to the foreign missions. She wrote to Mother Mary Joseph in early January of 1922, saying, "My call to the mission field holds too strong a claim on me to attempt to find happiness in another life". Consequently, she applied to the Maryknoll Sisters Community and entered on October 16, 1922, only ten years after our foundation.
Mother Mary Joseph described Sister Mary Agnes as "a Sister of great refinement and pleasing personality… very religious and very lofty in her spiritual ideas." Along with her deep and serious search for holiness which pervaded her entire life, she brought with her to Maryknoll, a sense of beauty and symbolism which she shared through her art work especially on feast days but also in the Chi Rho Arts. Those of us who knew her, remember not only her beautiful decorations in the dining room, but also her delicious culinary treats.
Sister Mary Agnes was never able to be assigned to an overseas mission because of a heavy burden of ill health which seemed to cloud over her from the early years of her religious life and which caused her to be hospitalized several times over a long period. Her first assignment was to the "Field Afar" office where she worked for several years. At that time, she was assigned to the Venard and remained there until 1934, except for two years (1932 and 1933) which she spend working in the Seminary at Los Altos. In 1939, she returned to the Motherhouse and, with the exception of the years from 1939 to 1945, her years at Bethany, she remained here until 1976 when a serious illness resulted in treatment, from which she never fully recovered.
I think that I knew Sister Agnes best during the last years of her life here at the Center from 1970, up until last year when she served as Sacristan and delighted all of us with her energy, delicate taste, enthusiasm and dedication. I frequently rejoiced in her generosity and talent when I would see her arranging flowers for the altar, setting up for Mass, and decorating the dining room for feast days with a beautiful shrine or an exquisite banner. She helped to make our recent feast days here at the Center more meaningful by her delicate way of symbolizing the event.
We rejoice and give thanks to God for her life of praise – a praise sung often from a valley of tears – which gave glory to God in season and out of season, in joy and sorrow, in hopes and fears, in anxiety and peace. We know that all her sufferings are now caught up and carried forward by the Lord Jesus Himself to unending happiness and fulfillment in everlasting life.