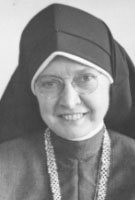 Sister Mary Alacoque Karst, MM
Born: October 11, 1900
Entered: December 15, 1930
Died: March 25, 1995
Saturday morning, March 25th, the Feast of Our Blessed Mother, Sister Mary Alacoque Karst died peacefully in our Maryknoll Residential Care Facility. She was 94 years old. As per Sister Alacoque's request, we will have a simple Eucharistic Celebration and no letter of appreciation. We would like to share, however, the following summary of Sister's 64 years as a Maryknoll Sister.
Rose Elizabeth Karst was born on October 11, 1900 in Cleveland, Ohio, one of three children – two daughters and one son – of Rose and Joseph Karst. Rose Elizabeth was baptized in St. Aloysius Church, and received her education at East Commercial High School in Cleveland, Ohio.
Rose Elizabeth entered Maryknoll on December 15, 1930 at Maryknoll, New York. She made her First Profession of Vows on June 24, 1933 and her Final Profession on June 24, 1936 at Maryknoll. From 1933 to 1944 she worked for the Maryknoll Fathers, at the Field Afar office. In 1944 she was assigned to the Venard in Clarks Summit, Pennsylvania for one year, returning to Maryknoll to work in the local bursar's office until 1949 when she was assigned to Crichton House. For the next eight years she worked in the Field Afar bookkeeping department as procurator and bookkeeper and then moved to St. Teresa's Convent where her bookkeeping skills were again called upon. In 1968 she returned to the Center, once again, to work in the local bursar's office. Here her journey continued until she was appointed bookkeeper in Treasury, a post she held from 1972 until 1979. At this time, failing health necessitated semi-retirement, but she continued to give her services for the next nine years to the Center Council, serving in whatever capacity she could.
In April 1994 Sister Alacoque was admitted to Residential Care. It is difficult not to say more about Sister's peaceful, quiet, and gentle manner and how her life touched the hearts of others, but respectful of her wishes, I would like to end this summary with a prayer Sister Alacoque prayed:
"Most loving Heart of my God I believe in your
power. I believe in your personal love for me.
Thank you O Sacred Heart of Jesus. I place all my
trust in You."
Sister Alacoque, we believe that the God to whom you have entrusted your life, embraces you now forever.
We welcome our Maryknoll brother, Father Edward Manning, M.M., who will preside at the Mass of Resurrection this morning.