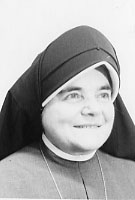 Sister Mary Alma Erhard, MM
Born: May 19, 1907
Entered: May 24, 1926
Died: July 30, 1991
As we gather together to celebrate Sister Mary Alma's journey back to God, the words of today's Gospel speak eloquently of resurrection:
"Do not be troubled; trust in God and trust in Me. In my Father's house, there are many mansions and I go to prepare a place for you: did I not tell you this? And, as I go now to prepare a place for you, I shall come again and take you to me, that where I am, you also may be."(John 14: 1-3)
On July 23, 1991, Sister Alma became ill and was hospitalized at Phelps Memorial Hospital. As the week progressed, it became apparent that recovery was not in God's plan for her. Early in the morning of July 30, 1991, Sister Mary Alma Erhard slipped away from this world to her new life of fullness with God.
Alma Mary Erhard was born on May 19, 1907 in Philadelphia, PA to Grace Fischer Erhard and Gustave Erhard, the only child of this marriage. She attended Marywood Seminary in Scranton, PA, graduating from high school in 1924. In addition to the usual studies, she had a great interest in music and so received an additional certificate in piano and harmony. Always excelling in academic work, she was awarded a gold medal for the highest average in the Senior Department, at the time of her graduation.
During her college studies at Marywood, Alma Mary's interest in religious life was first awakened and nurtured. After speaking to Sister Gemma, she wrote to Mother Mary Joseph asking to enter Maryknoll. She wrote in this letter that she felt Maryknoll was the way to fulfill her desire to know, love and serve God and His Virgin Mother, in the best way possible. So the following year, on May 24, 1926, Mary Alma was received into the Maryknoll community, making her First Profession of vows in 1928 and her Final Commitment in October 1931.
With great happiness and gratitude, Sister Mary Alma received her assignment to study at Mount St. Vincent's College, with other Maryknoll Sisters. Now she was to pursue studies in English, rather than the music degree she had begun at Marywood. Immediately on graduating in 1932, Sister began her work in the Mission Education Department in The Field Afar office; a work she continued until her assignment in 1940 to San Juan Bautista in California.
The following year she was asked to go to Hawaii to the Punahou house and school, as her talents as a teacher were needed. Her friends from this time speak about her love of a good time, her artistic abilities which she lent to directing plays, both at the high school and for feast day parties. Above all, she is remembered for her great love for the students and her care and concern for both them and their families.
Once again, in 1945, Sister Mary Alma's gifts and talents were being called forth to return to the Center and begin work in the Mission Education and Publication Department of the Maryknoll Fathers. Her creative talents resulted in the publication of two books, Grey Dawns and Red (the story of Theophane Venard) and Operation Mission. Many plays were also published at this time, under the pseudonym of Marie Fischer (her mother's maiden name). Educational packets and filmstrips complete the list of her publications. As Bishop Lane was writing his book Ambassador In Chains, Sister Alma assisted him in research and compiling of material, especially the letters of Bishop Byrne.
After many years of this creative activity, Sister Mary Alma once more returned to school. This time it was at Fordham University that she received a M.A. in Sociology and her certificate in Missiology. In addition to studying she was on the faculty of Maryknoll Teachers College and gave classes in Missiology to postulants and renewal Sisters.
This era was the beginning of a very different response to mission for Sister Alma, who was commissioned to travel and share with other Maryknollers in both Asia and Latin America. One of her contributions at this time of increased interest in mission studies was an address she gave to the Maryknoll Sister Superiors in 1962. Entitled "Orientation During Language Study on the Missions," she spoke of the need to integrate culture, anthropology, as well as language study, for new missioners. This and other papers were published through the Maryknoll Sisters Mission Secretariat and distributed to all Maryknoll houses. She, herself, studied Spanish in Cuernavaca in 1962 and wrote copious notes to Mother Mary Coleman of her impressions and learnings. Always having a great devotion to Mary, a highlight at this time of her life were the many pilgrimages she was able to make to the Shrine of Our Lady of Guadalupe. She felt that she was a pilgrim for all Maryknoll Sisters, remembering the needs of our Congregation as she prayed to her beloved Lady of Guadalupe.
Her travels through Latin America included some months in Cochabamba, Bolivia, where she participated in the development of an experimental language program for the Maryknoll Sisters.
On her return to the Center, life was busy with many new mission and ecumenical activities. Sister participated in the Marianist Mission Institute, seminars and tours with Christian Women Concerned of the United Presbyterian Church. The highlight of this endeavor was a tour of Asia as part of a task force on Women's Participation in Rural Development. Later, Sister was part of the White House Conference on food, nutrition and health. Following this in 1970, she was nominated to be consultant to the National Council of Churches Committee on Agricultural Missions.
In 1972, after many years of active ministry, Sister Alma was assigned to the Senior Unit. Ever mindful of the needs of the Church and the world, she industriously carried on with her ecumenical concerns through a large correspondence. But it was also during these years following Vatican II and the many changes the Council introduced, that difficulty in facing these changes became obvious in the life of Sister Alma. It seemed that in her personal sense of loyalty to the Church, she may have been unable to accept the major modifications of long-standing traditions, because progressively, she withdrew from community activities. At the same time, she gave meaning to her life by continuing to celebrate the big feasts as she always had. What appeared particularly important to her was the pleasure she brought to the Sisters who were able to remain close to her, as she decorated the coffee shop and supplied goodies for celebrations. Every year at Christmas, she was the one who prepared the Crib in the museum, always careful to acknowledge the various artistic contributions of other Sisters to the Christmas scene. We all know, too, that until the end, Sister Alma prayed constantly and faithfully for those in need, as she asked Our Lady to intercede for all the people of God.
When she celebrated her Golden Jubilee in 1976, a former student from Honolulu expressed the desire to establish a scholarship fund in her name as a Jubilee gift. Sister agreed only on the condition that it would be in the name of the Blessed Mother and in honor of all our Sisters who had been part of the founding and staffing of the school. The first award was given in 1980 to the most industrious and hard-working student of the senior class, and not to the one with the highest scholastic ability. Sister declined the invitation to attend the award ceremony, asking that the travel money be applied to the award. Such was the nobility of our Sister Alma, for whom we are gathered here this morning and with whom we celebrate her entry into eternal life!
We welcome Father Edward Koob, Sister Alma's cousin as celebrant of her Mass of the Resurrection. We also extend our welcome and gratitude to Sister's friends and family. The music that we will be singing is at the specific request of Sister Alma.