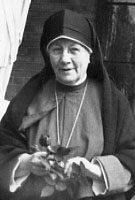 Sister Mary Ambrose Crawford, MM
Born: October 28, 1876
Entered: September 15, 1914
Died: October 28, 1966
For many months, Sister Mary Ambrose had been looking forward to celebrating her ninetieth birthday, October 28th, with her Sisters at Bethany. There were secret plans to make this a very "special" day for Sister; but our Heavenly Father had a wonderful surprise of His own for her – to make this day her first birthday in paradise with Him, and with so many of her Maryknoll Sisters and friends who awaited her coming. The summons came for Sister at three o'clock this afternoon, October 28th, after a week of great suffering and discomfort. During those days we were not surprised to see Sister's lips forming the words of the Hail Mary, and her fingers moving from bead to bead, since the Rosary had been her prayer, day and night, for so many years.
Sister Mary Ambrose (Mary Letitia Crawford) was born in Boston on October 28th, 1876. Her high school years were spent at a Catholic Boarding School in Quebec. After graduation she took a special course in dressmaking and pattern-drafting, which qualified her to teach sewing in a Boston High School. This training prepared her well for her future work as one of our "pioneers." Sister was the twelfth young woman to apply to Father James Anthony Walsh for admission to the new Community, dedicated to the Missions. At that time Sister listed her talents as "sewing and drafting patterns" – and she pledged herself to any kind of work through which she could be of service.
Mother Mary Joseph recognized Sister's gifts and put her talents to good use. This new Community wanted a religious habit, and who, better than Mary Crawford, could work at creating, designing and evolving a habit which would be dignified, practical, and worthy of young American religious like Mary Rogers. With Mother's advice, and the assistance of Miss Julia Ward, Maryknoll's first Habit committee came into being and presented a dress which was to form the basis for future modifications. We know how Sister Mary Ambrose maintained this interest all her life and offered suggestions and advice for simplification and improvement.
In the first decade of Maryknoll history, the priests, brothers and seminarians found their way to Sister's sewing room, with cassocks to be mended or dressed. Everyone knew Sister Ambrose! She was always there to do these homey things for them, and to provide a little treat of candy or cookies. Needless to say, sister was everybody's friend.
Most of Sister Ambrose's religious life was spent at the Motherhouse. There was a period of three years when she was Superior at the Venard, and later in 1947 she set up the Sewing Room at the new Novitiate at Valley Park, where she remained long enough to provide the habits and mantles for the first group of Sisters.
The years brought many changes in the pattern of Sister's life. Our active little mistress of the Sewing Room began to progressively deteriorate. Her deepening patience, thoughtfulness of others, and gracious acceptance of her cross of suffering were a source of edification to those who cared for her. As her vision began to fail, she became more and more devoted to Our Lady and her Rosary, which became her constant prayer for all Maryknollers, especially her Sisters.
Sister gave herself wholeheartedly to community life at Bethany. She never missed a meal in the dining room, nor Mass and Noon Prayers if she was physically able to leave her room. Her wonderful spirit and optimism completely captivated her companions in the days of transition in 1957 when our Infirmary patients were transferred to Bethany. Sister was always a blessing in the house.
Sister's Requiem Mass will be offered at the Motherhouse on Monday, October 31st at 11:00 A.M. May her faithful, dedicated soul find its true fulfillment through her birthday in heaven.