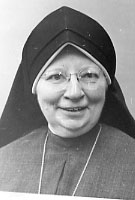 Sister Mary Ann Fuchs, MM
Born: July 17, 1905
Entered: December 8, 1931
Died: November 4, 1997
We gather this morning to remember and to celebrate the life of our Sister Mary Ann Fuchs. At the age of ninety-two, Sister died peacefully in the Residential Care Facility at Maryknoll, New York, on November 4, 1997. She had been a Maryknoll Sister for sixty-three years.
Mary Louise Fuchs was born in Chillicothe, Ohio ,on July 17, 1905, to Oscar and Mary Ann Fuchs. She had two brothers, Harold and Paul. She attended St. Mary's Elementary and High School in Chillicothe. Following graduation from high school in 1923, Sister Mary Ann attended Mount St. Joseph College in Cincinnati from 1923-1925. She was employed as a secretary for the Chillicothe Chamber of Commerce from 1925-1930 and then worked as a manager for the Chillicothe Credit Bureau for three years.
Her college roommate, with whom Sister Mary Ann corresponded for more than fifty years, remembers her as the center of all activities on campus. She did not want to miss any of the opportunities for fun. She was remembered as outgoing and a leader in every way on campus.
Mary Louise entered Maryknoll on December 8, 1931, but returned home in 1932 for health reasons. She remained firm in her desire to become a Maryknoll Sister and was able to enter again in December 1934. She received the religious name of Sister Mary Ann. Her First Profession of Vows was made on June 30, 1937, and her Final Profession of Vows on the same date in 1940 at Maryknoll, New York.
Sister Mary Ann attended the University of Maryland and received a Bachelors of Science in Nutrition in 1940. She was elected to both Omicron Nu and Phi Kappa Phi, National Home Economics and Dietetics Honorary Associations, because of her academic achievements. Following graduation, Sister Mary Ann was assigned to the Maryknoll Sisters' kitchen as procurator until 1944. She was assigned to Monrovia, CA from 1944-1947 where she served as dietitian at the hospital for patients with tuberculosis. While at Monrovia, she was able to help care for her aging mother. After her mother's death, Sister Mary Ann wrote to Mother Colman expressing her deep gratitude for the loving care given to her mother by the Sisters during her illness.
Sister Mary Ann remained in southern California, serving in Los Angeles from 1947-1957 where she did catechetical work and home visiting. She returned to the hospital at Monrovia in 1957, again as dietitian.
In 1960, at the age of fifty-five, Sister Mary Ann was assigned to Tanzania. In a letter written to Sister Mercy, she describes her sense of awe at this first overseas assignment: "I am still somewhat overwhelmed by this wonderful assignment to Africa and for the great privilege of coming via Rome. We felt that it was a very special privilege to receive our Holy Father's blessing on the eve of our arrival in Africa."
Sister Mary Ann was assigned to Marian College in Morogoro where she taught mathematics and chemistry. She is remembered as a dedicated, well-prepared teacher, always interested in her students. While she was teaching science at Marian College, the United States was involved in the early years of space exploration, including the 1969 lunar landing. Sister Mary Ann wrote to the US Embassy and received information on the space program that she used in her science classes. Through her efforts, the students became both informed of and excited about the exploration of space.
In 1971, Sister Mary Ann returned to the US where she served as the Senior Region's bookkeeper from 1971-1974 in Guadalupe, California. She returned to Monrovia in 1974 which, by this time, had become a retirement facility for Maryknoll Sisters. At Monrovia, she was able to reconnect with her many friends in the area. She maintained a keen interest in all outside activities and never missed the weekly bridge games at the local community center. Maryknoll Sister friends remember her as a gracious hostess, always ready to accompany them with their families and other guests to see the sights of Pasadena and Los Angeles. Sister Mary Ann returned to Maryknoll in 1992 for health reasons.
Sister Mary Ann was a faithful correspondent. Even in her later years she still corresponded with more than sixty relatives and friends. It was a challenge to write her Christmas cards for her as she had many memories of each person so each message was unique. She remembered with great fondness her childhood home in Ohio and kept the poem, The Soft Green Hills of Ohio by Reginald Blankenship (1971) at her bedside as it helped her recall the beauty of Ohio.
"Oh, once in youthful ways beguiled by whatever met my eye, oh–
I walked as a child where the warm sun smiled on the soft green hills of Ohio.
There where a pathway climbed a hill and heaven looked down from on high, oh–
The dew lay chill and dawn came still on the soft green hills of Ohio.
Oh there I wandered hither and yon and watched the clouds go by, oh–
Watched them drift on like the years now gone on the soft green hills of Ohio.
Sometimes I walk with memories beneath the vanished sky, oh–
Where summer's breeze stirs in the trees on the soft green hills of Ohio.
It's there the paths my parents trod; it's there their spirits seem nigh, oh–
Hallowed the sod where they rest with God on the soft green hills of Ohio."
We extend our deepest sympathy to Sister Mary Ann's family and friends. We welcome our Maryknoll brother, Fr. Lionel Bouffard, who will celebrate this Eucharist of Resurrection with us, as together we give thanks for the gift of Sister Mary Ann's life.