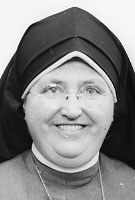 Sister Mary Benedict Scott, MM
Born: August 17, 1902
Entered: September 24, 1921
Died: November 24, 1989
On November 24, 1989, Sister Mary Benedict Scott died peacefully and quietly here at Maryknoll, her home for the last 30 years.
Mary Agnes Scott was born in Passaic, New Jersey on August 17, 1902. She was one of five children born to John Thomas and Mary Scott. Mary Agnes graduated from St. Nicholas Grammar School and was an active member of that Parish in Passaic, N.J. until she entered Maryknoll. Before entering Maryknoll, she worked as a "mender", telephone operator and cashier for different companies. After reading the "Field Afar" Magazine and "Modern Martyr (Life of Theophane Venard)", she felt strongly that she had a vocation to serve the missions. On September 24, 1921 at the age of 19, Mary Agnes entered Maryknoll. She was given the name "Sister Mary Benedict" at Reception, made her First Profession of Vows on April 19, 1924 and Final Profession on April 19, 1927 – all here at Maryknoll.
During the years after First Profession she attended the Venard at Clark's Summit, Pa. Her first assignment was the Venard and her subsequent Maryknoll life was spent either on the East or West Coast in different Maryknoll houses. The skills learned before entering Maryknoll were put to good use and met many of the needs in the new and growing Community. There were some indications early on that for Sister Benedict, the familiar tension of wanting to be sent overseas to the missions and doing what had to be done here, periodically surfaced as a real and difficult struggle. But even though there may have been times of personal disappointment, many Sisters remember the quiet niceties she showed to new Sisters or those moving to their new assignments.
If we were to weave a tapestry to depict the 87 years of Sister Benedict's life, the ups and downs would be many and the threads and colors of joy and sufferings would vary in size and brightness. Sometimes the image would be very clear and sometimes, after these many years, slightly faded. But for now, let us remember the clearer image, the brighter threads, of the past 10 years. At some time during the last decade, Sister Benedict reflected on her life and so on her death, as she chose particular psalms and readings for these liturgies. We sense a strong call to God for forgiveness (Psalm 50) and at the same time a deep gratitude (Psalm 136). And that is what so many remarked of her sincere, joyous gratitude for even small things done for her. We know how she looked forward to, enjoyed and was most grateful for the regular "out to breakfast" dates on her Feast Day and Birthday with Sister Patricia Ann Arathuzik. In this Season of Thanksgiving, her last days were spent visiting with the Sisters in the Nursing Home and sharing meals with them. For the past several weeks Sister Benedict resided in the Health-Related Area on Riverside. On the day of her death she spent an active day, had supper with the Sisters there and about 7:00 P.M., she complained of chest pain. She was anointed by Maryknoll Father Ronald Green with several Maryknoll Sisters at her bedside; and as quietly as she had lived, she died at 9:00 P.M. on Friday, November 24th. She is now with her God.
We extend our prayers and sympathy to relatives and friends of Sister Mary Benedict Scott.
We remember and celebrate Sister's life and death as we enter into this Eucharistic Liturgy together with Father Robert Reiley, M.M.