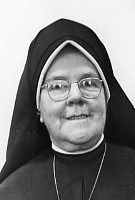 Sister Mary Berchmans Flynn, MM
Born: May 31, 1900
Entered: March 3, 1921
Died: November 9, 1987
On Monday, November 9, Sister Mary Berchmans Flynn died peacefully in our Maryknoll Nursing Home where she had been a resident since 1983. Sister was 87 years old at the time of her death.
Katherine Elizabeth Flynn was born in St. Agnes Parish, Arlington, Massachusetts, on May 31, 1900. Her parents, David and Margaret Healy Flynn, died within two years of each other in 1914 and 1916 leaving a large and relatively young family to mourn their loss. Katherine was not quite eighteen when she applied to Maryknoll. Because her help was still needed, it was decided best that she remain at hone for a longer time and so it was on March 3, 1921, that she entered the Congregation. She made her First and Final Professions on April 9, 1923 and 1926.
After her First Profession, Katherine, now Sister Mary Berchmans, began a teaching career which continued the rest of her active life. This ministry was extended to the communities in Los Angeles, Hawaii,  Seattle, Chinatown, New York, and Hong Kong. Many summers were spent studying for her degree in Education which she received from Maryknoll Teachers College and Immaculate Heart College in Los Angeles.
Sister Berchmans dearly loved the Asian students she taught. She spent fourteen years at the Maryknoll School in Los Angeles – a grammar school for Japanese children; three years at the Maryknoll School in Honolulu and thirteen years at our Transfiguration School in New York City's Chinatown among the Chinese students. In 1960, she began teaching at the Maryknoll Secondary School in Hong Kong and seven years later, at the request of the Japanese Consul General in Hong Kong, she accepted a teaching position in a private school for Japanese students whose parents were temporarily stationed there.
At the age of 70, she was still teaching at the Japanese School in Hong Kong when she wrote to Sister Barbara Hendricks, Community President, "I finished my 70th year and am well. I just have a few minor ailments due in large part to aging. My job, teaching in a Japanese private school here in Hong Kong, allows for semi-retirement as I teach only 15 hours a week. Though there is no apostolic work as such, people have told me the position offers a means to witness to Christ; so I would very much like to defer total retirement for the time being." And she continued to defer that retirement even after she returned to the Maryknoll Center in 1972 where she tutored students in English for a few more years. Not to be outdone by others slightly younger than herself, she requested to be assigned to the Panama Region in 1974 at the age of 74, but was not encouraged because of her now failing health.
Though considered a very private person by many, Sister's great love for mission and her loyalty to Maryknoll were evident in her daily activities and in her letters.
On being assigned back to Maryknoll in 1941 she wrote to Mother Mary Joseph from Los Angeles, "Leaving the Japanese work here will be a great suffering – the greatest I've been asked to bear since I left my own family twenty years ago."
Sister Berchmans questioned and even challenged many decisions of the different Central Governing Boards but she was equally quick to encourage them as in her note to Sister Malinda Roper, Community President, in 1979: "Your talk to the Community last night was magnificent! You and your co-workers are making our sunset years even more soul-lifting than were our dawns!"
We wish to extend our heartfelt sympathy and prayers to Sister Berchmans' family and friends.
Let us join together now as we celebrate with Maryknoll Father Robert Lloyd this Liturgy of Resurrection and Joy for our Sister Mary Berchmans Flynn.