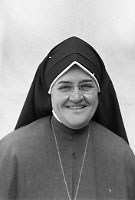 Sister Mary Bernice Stewart, MM
Born: May 13, 1904
Entered: September 22, 1923
Died: February 16, 1963
Mary Margaret Stewart was born on May 13, 1904, at Lake Geneva, Wisconsin. After graduating from St. Mary's Academy, Milwaukee, Wisconsin, Sister came to Maryknoll on September 22, 1923, She received the Habit on April 19, 1924, and made first temporary Profession on April 30, 1926. During the two years following first Profession, Sister studied at Catholic University, in Washington, receiving a Teacher's Certificate. Her first mission assignment was to the staff of the Japanese School in Los Angeles in 1929. Three years later, in 1932, Sister was assigned to Seattle and after six years there, returned to Los Angeles in 1938. Sister spent two years – from 1941 to 1943 at the Motherhouse and then in January 1944, went to the Hawaiian Islands, where she taught in the schools on Oahu for the next fourteen years. In 1960 Sister was assigned to St. Anthony's Convent in the Bronx.
Sister Mary Bernice loved children and enjoyed teaching. She frequently enclosed in her letters to the Motherhouse humorous excerpts from the children's written masterpieces.
Sister was extremely grateful for every attention, and our Sister-doctors resident at the hospital, the Sisters from her own St. Anthony's Convent and from Transfiguration, were most devoted in giving her every possible moral and spiritual support and comfort in her suffering. Sister Mary de Lellis shared the nursing care with the excellent staff at St. Vincent's.
On Friday morning Sister Mary Bernice told Sister Mary de Lellis she thought Our Lord, would come for her that day, and asked the Sisters to pray with her. She fervently joined in the prayers and afterwards lapsed into a semi-coma from which she never rallied.
On Saturday afternoon, Sister Mary Helen and Sister Raymond Maureen visited and prayed the rosary while Sister apparently slept with the help of oxygen. Four of us from the Motherhouse arrived about four o'clock and found her still sleeping. We said the prayers for the dying, the Salve and blessed Sister with holy water. Her pulse seemed strong and regular. We left the hospital about five thirty and two hours later, received word from Sister N. Jane de Chantal that Sister had just quietly slipped away.
The doctors, nurses, and all who had part in Sister's care, spoke of her beautiful spirit. She was not known to utter a single complaint.
More than once Sister expressed her appreciation to all of you for your prayers which won for her so many graces as she made ready for her great moment.
Sister's body will be brought to the Motherhouse and the funeral Mass will be sung in our Chapel here at 11 o'clock Tuesday morning, February 19.