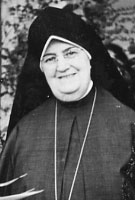 Sister Mary Blanche Cronin, MM
Born: April 3, 1901
Entered: October 14, 1927
Died: August 17, 1966
Early Wednesday evening, August 17, a telephone call from Sister Miriam David, from Honolulu, brought the unexpected news of the death of Sister Mary Blanche, earlier in the day. This sudden call of God, came as a great shock to our Sisters in Honolulu. While visiting with friends there Sister Mary Blanche began to feel weak, and asked to lie down to rest for a while. It became evident soon that Sister was seriously ill. Father Hubert and the doctor were summoned and they came immediately. Sister received the Sacrament of the sick. The Master had come to call her, and human aid was to no avail.
Sister Mary Blanche (Esther Catherine Cronin) was born at Holliston, Massachusetts, July 3, 1901. She entered Maryknoll on October 14, 1927, and was professed April 30, 1930. Sister's first assignment was to Los Angeles in May of 1930. There she taught kindergarten and first grade, until she was transferred to Hawaii in 1933, where she spent the remaining thirty-three years of her life. Sister was totally dedicated to teaching, and she expressed her love for her work and her charges in her letters over the years. In 1956 she wrote:
"I am deeply grateful and keenly conscious of the great privilege which has been mine… that of being with God's little ones for all my religious life. Have they been brought a little closer to their Creator because they have passed through my hands? What a tremendous thought! Please God, they have!"
We can be confident that God Himself has given Sister the answer, "Well done, good and faithful servant –Come!"
At the present time I cannot give you the details of Sister's funeral, which will be Friday or Saturday. Although we know that Sister's good and dedicated life has prepared her well for this moment, we shall pray for her soul. May our prayers for Sister Mary Blanche hasten the time of her true fulfillment in God.