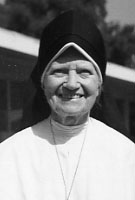 Sister Mary Brendan Moloney, MM
Born: June 10, 1894
Entered: February 2, 1921
Died: December 30, 1977
Jane Cathleen Moloney, or Sister Mary Brendan, as she was later called by her Sisters, relatives and friends, was born in County Clare, Ireland, on June 10, 1894. Jane entered Maryknoll on February 2, 1921 having been preceded into the Maryknoll Sisters' family by only 7 other young women. She made her first profession on April 9, 1923, and her final vows on April 9, 1926. She had been a patient at Bethany since 1971 when she died peacefully on the morning of December 30, 1977.
This is how the Sisters, who knew her best have described her to me. They say, "She was simple; she was kind. She was solicitous for the needs of others; she was loving; she was fun-loving; she was considerate; she was efficient. She was witty; she was outstandingly loyal to those in authority and she possessed to an eminent degree the saving grace of kindly humor."
She never served in any overseas Maryknoll mission. Her entire religious life was spent in the kitchens of the Los Angeles Maryknoll Children's Home, Bethany, the Maryknoll Seminary, and Monrovia. In her work she acquired the reputation of being among the very best of Maryknoll Sister cooks. This is no mean achievement because in that field there is a lot of competition! She was an artist in all phases of the culinary arts. She performed her culinary marvels with ease, with joy, with a sense of satisfaction and without fanfare. When Bethany served as a Guest House, she won over the hearts of all who ate from her table.
She is largely responsible for the formation of the Maryknoll Guild in California.
Sister loved children. When she was in charge of the kitchen of the Maryknoll Children's Home in Los Angeles, she would take the children into the kitchen and, carefully and lovingly, turn them into good little cooks. It was a coveted privilege to work with Sister Mary Brendan.
One of her most characteristic traits was a deep appreciation for the slightest kindness done for her. After she obtained her American citizenship in 1947, she asked and received permission to visit her family in Ireland. This was a source of great joy for her. She wrote to Mother Mary Columba: "I wish I could express the deep gratitude that is in my heart for letting me see my family again. I will prove my gratitude by trying very hard to be all He has wished me to be. I know at times I'll fail and I know, too, that you and He will understand."
In 1963, on the occasion of her fortieth anniversary in Maryknoll, Sister wrote: "Each milestone deepens our debt of gratitude to God and love for Maryknoll. I humbly ask the grace to live my vocation more deeply and more fruitfully in the quiet years ahead."
Those who knew Sister Mary Brendan only in her later years at Bethany might never suspect that not so long before, her favorite pastime was beating everyone and anyone at Scrabble. She had, in fact, just for fun, memorized the entire Scrabble Dictionary!
We, the Maryknoll Sisters, wish to express our sincere and loving sympathy to her family in Ireland and to the other members of her family.
Here at The Center, the Mass of the Resurrection will be celebrated on Tuesday morning, January 3, 1978.