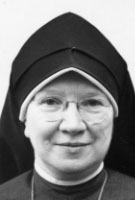 Sister Mary Carol Kelly, MM
Born: July 8, 1909
Entered: July 2, 1936
Died: October 22, 1985
This morning we gather in worship and celebration, our hearts filled with love and gratitude for the life of our Sister Mary Carol Kelly. There is pain in her going, but joy as we know she now enjoys the "the fullness of life" in the Resurrected Lord. We thank God for the many beautiful ways in which she touched us, loved us and enriched our lives. Sister died peacefully at 10:05 P.M., October 22, 1985 in our Maryknoll Nursing Home.
Marie Theresa Kelly was born in Larksville, Pennsylvania on July 8, 1909 to Charles and Margaret Keating Kelly, one of 8 children – four brothers and three sisters. After graduation from Larksville High School in 1926, Marie attended the Pittston Hospital School of Nursing, graduating in 1930. Following specialty studies with certification in Anesthesia from the University of Pennsylvania, Marie returned to Pittston Hospital where she served as Surgical Supervisor and Anesthetist from 1932 to 1936.
On July 2, 1936, Marie entered Maryknoll and was given the name: Sister Mary Carol at her reception. Immediately after first profession on January 6, 1939 Sister Mary Carol was assigned to Monrovia, California. Three years later she returned to the Motherhouse as Infirmarian. With total generosity and enthusiasm, Carol devoted the next 10 years of her life to the care of our Maryknoll Sisters. Only those of us who have been blessed by her ministry and received her gifts of healing love, can fully appreciate the fruit of those years.
In 1953, Sister Carol joined a small group of Maryknoll Sisters bound for Korea, a country still torn by war. Until 1970, when she left Korea because of illness, Sister's role was that of teacher and enabler, but most of all healer. Her compassionate hands touched many through the years. Korean professionals and Church leaders recognized that the preparation of young Koreans to take responsibility for their own health care was a significant initiative in building up a national health care system and of supporting a growing Church. Sister inspired trust and gave encouragement to countless Korean student—nurses and Korean religious who were assuming leadership positions in their country.
No appreciation of Sister Carol's life would be complete without a glimpse into the inner journey of her illness, pain, suffering and uncertainties. These times were woven in and out of her very active ministry. In times of very poor health and limited activity, a spirit that loved life and people was sustained by a deep faith, peaceful trust and complete openness to God.
With great joy and a twinkle in her eye, Carol loved to recall all the happy events of her final trip to Korea just one year ago – a double celebration of the 60th Anniversary of Maryknoll Sisters presence in Korea and 200th Anniversary of the Church in Korea. She counted it as the highlight and most blessed event in her life: "It was like coming home" she said. She received a remarkable outpouring of appreciation, love, esteem and grateful remembrance of her life and service from the Maryknoll Community and from her beloved Korean friends. Especially dear to her, was the warm welcome and loving reunion with the Korean Sisters, who had grown very close to her.
We have all learned much from her life: both in her self-gift to others as well as her beauty in receiving totally from God and from all who gave to her. Summing up her experience as Motherhouse infirmarian she wrote: "It is always a joy and privilege to serve my Sisters. I thank God for the enrichment and spiritual growth I received from so many Sisters who in sickness and health attributed their strength to the Jesus they followed."
We thank the personnel of the Maryknoll Nursing Home who cared for Carol and who wanted us to know that "the meaning and value of a woman's religious life" took on new meaning and understanding for them for knowing Sister Carol.
We extend our heartfelt sympathy to Sister Carol's family. We lovingly welcome them and thank them for the comfort of their presence as together we join our good friend, Father Mike Pierce, M.M., in offering this Eucharistic Celebration of love and remembrance of our dear sister and friend.