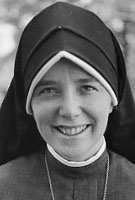 Sister Mary Catherine Mooney, MM
Born: December 25, 1926
Entered: February 1, 1952
Died: July 31, 2007
For Mary Catherine Mooney, life was a series of wonderful surprises. Whether these brought pain or joy, her heart was open to welcome them all.  Mary Catherine died on July 31, 2007 in the Maryknoll Residential Care IV. Sister was 80 years of age, and had been a Maryknoll Sister for 55 years.
Mary Catherine Mooney was born in Waterbury, Connecticut on December 25, 1926. Her father was Gerald J. Mooney and her mother was Mary Catherine Hickey Mooney. She was the oldest of four girls. After her graduation in 1944 from Waterbury Catholic High School, she studied for two years at Loyola University in Chicago and at the College of St. Teresa, Winona, Minnesota. Mary Catherine entered Maryknoll on February 1, 1952. She had delayed her entrance in order to help her father with the younger members of the family. She made her first Profession of Vows on September 8, 1954 at the Maryknoll Novitiate in Valley Park, Missouri, receiving the name of Sister Maria Rafaela.
After obtaining her BA in Education from Maryknoll Teachers College, Maryknoll, New York, in 1958, Sister was assigned to Transfiguration Parish in Chinatown, New York. She made her Final Profession of Vows September 8, 1960, at Maryknoll, New York. She was then assigned to Hawaii where she taught Grade 7 at Maryknoll Elementary School in Honolulu.
Eleven years later, in 1971, Mary Catherine was assigned to Japan, where after two years of language study, she went to Yokkaichi and for two years taught English as a Second Language at the Maryknoll Girls School. She then went to Kyoto and continued teaching English until 1983 when she returned to the Center to do Congregational Service for three years.
By 1986 China was welcoming foreign teachers of English into many of its universities. Mary Catherine was among the first to express her desire to go teach in China. She said, "Bishop Francis X. Ford was a deep influence, as I admired his genius in assisting Maryknoll Sisters to contact people according to people's needs, not according to traditional methods." She taught for two years at the East China Institute of Technology near Nanjing City and then returned to Kyoto in 1988.
Mary Catherine had many talents and interests. Whatever cause or commitment she undertook, she embraced with passion. In her later years she had a consuming love for Mother Earth and did all in her power personally to preserve nature and the environment. She expressed her love for the earth not only in words, but in very concrete ways. Besides teaching English, she worked almost daily in her garden growing organic vegetables. In 1997 she attended the UN Convention on Climate Change in Kyoto. She was deeply moved by what she heard. Recently she wrote a letter to Nancy Pelosi, Speaker of the House, encouraging her to make Global Warming a priority, promising prayers for wisdom and integrity.
Mary Catherine was kind and generous; she was creative and artistically gifted. In her free time she often made original greeting cards with a Japanese flavor to sell at church bazaars for the benefit of the Kohitsuji Kai, a Catholic group of physically challenged people in Japan.
Mary Catherine said she had learned much from every culture her life had touched. Her first assignment in Chinatown, New York had opened her up to the surprises children of Italian and Chinese descent brought to the classroom daily. Her years in Hawaii had given her an appreciation of the beauty of children of many races along with the lovely aloha spirit. She described her two years in China as "a gift of God reminding me I can expect future surprises as a grateful Maryknoll Sister." Japan had nourished her own inclination and need for contemplation. Since 1999 she had been an integral part of the John Main Meditation Group, conscious of the need for silence and reflection in our world.
Mary Catherine was always an active member of her Maryknoll community. On several occasions she served in various leadership positions in the Region. Sister Rosemary Bass of the Kyoto community where Catherine lived for more than 30 years wrote, "There is a huge hole in our hearts and in our home here at Matsugasaki. Mary Catherine's interest in and dedication to the good of others was always a blessing."
We extend our deepest sympathies to her family.
We also welcome Maryknoll Father Alfonso Kim who will preside at our Liturgy of Christian Burial.