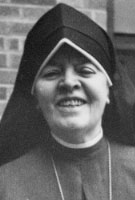 Sister Mary Christine Kelly, MM
Born: October 18, 1888
Entered: December 7, 1922
Died: April 6, 1960
Once again it has pleased God to call one of our Sisters home.  Wednesday, April 6, our dear Sister Mary Christine quietly slipped into eternity at 1:35 p.m.
Sister Mary Christine, (Sarah Jane Kelly), was born in Dundee, Scotland on October 10, 1888. The family apparently came to this country when Sister was a young child and she grew up in Tarrytown, New York.
Sister did clerical work before entering. Some of the Sisters recall that before Sister Christine entered Maryknoll – in the old days of office work when robots and addressographs were still unknown – Sarah Jane Kelly lent a faithful hand in expediting the mailing of the Field Afar copies. Traveling weekly from Tarrytown by train, and then by trolley to the foot of Sunset Hill, she gathered a few hundred Field Afar wrappers which she addressed on her typewriter at home, to be exchanged the following week by a new supply.
Sister entered the postulate on December 7, 1922, and made her First profession on April 19, 1924. The same year she was appointed procurator general.
In 1926 Sister went to Bethany Guest House as Superior. In 1929 she went to Los Altos. In 1930 she returned to the Motherhouse to become the Procurator for the local house. In 1946 Sister again went to Bethany as Superior.
In 1951 Sister went to Crichton House. In 1953 Sister returned to the Motherhouse infirmary and resided there until the transfer of the infirmary to Bethany in 1957.
In the years at Crichton she initiated a cancelled stamp project which developed very successfully, and Sister continued this stamp work while at Bethany.
Sister Mary Christine had special devotion to St. Joseph. It is fitting that it should be on Wednesday, St. Joseph's day, that Sister should go to God. Sister's Requiem Mass will be sung in Bethany Chapel on Friday morning at 9:30. She will be the 7th Sister to join Mother Mary Joseph in our cemetery, beneath the Cloister Hill.