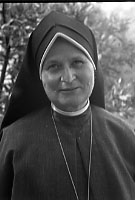 Sister Mary Clare de Sales VanOrshoven, MM
Born: January 29, 1892
Entered: July 5, 1933
Died: November 14, 1961
You have been keeping our dear sister Mary Clare de Sales in your prayers since the Motherhouse News alerted you to the fact that Sister was growing weaker. Hence it will not come as a surprise to you to learn that Tuesday night, November 14, 1961, at our Monrovia Hospital in California Sister went to God.
Sister Mary Clare de Sales, Frances Van Orshoven, was born in Otay, California, on January 29, 1892. After completing the elementary school program in her native town, she attended Our Lady of Peace Academy in San Diego. After graduation, she obtained a teachers certificate from San Diego State Normal School, and earned additional credits toward an A.B. Degree, at San Diego and at Berkeley. Frances taught school for fourteen years before entering Maryknoll, on July 5, 1933. Sister Mary Clare de Sales made her first profession on January 6, 1936. The same year she was assigned to the Japanese mission in Los Angeles. In 1939, Sister was able to return to the West Coast apostolate, at first to Seattle, and later to the California missions, where she remained ever since, except for a brief period at Tucson Sister has been at Monrovia since 1954.
During the past few weeks Sister Mary Clare de Sales steadily weaker. She had hoped to make the retreat with the Community, and attempted to do so, but was unable to stand the exertion. On Monday the 13th, Sister felt well enough to get up to enjoy a bit of sunshine. On Tuesday, she took a turn for the worse.
On Friday, November 17, the funeral Mass will be sung in the Monrovia convent chapel, with our Maryknoll Fathers officiating, and Sister will be laid to rest in Calvery Cemetery, Los Angeles.