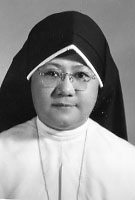 Sister Mary Claver Sanglap, MM
Born: September 16, 1909
Entered: June 27, 1937
Died: April 13, 1997
As we continue to participate in the mystery of the dying and the rising of Jesus this third week of Easter, we gather today to celebrate the mystery of the life and death of Sister Mary Claver Sanglap in this Liturgy of the Resurrection. Sister Claver died peacefully and happily in her sleep on April 13, 1997 at 5:30 a.m.
Practically everyone was taken by surprise because, although she suffered many illnesses, she was "not sick". But death did not take Sister Claver by surprise. Her heart was ready and she prepared for her death with loving care, quietly doing her leave-taking. Two days before she died her brother in the Philippines received a letter from her asking prayers, "not for my good health but for a happy death for me." When Sister Teresa Dagdag visited her the morning before her death, Sister Claver gave her a crucifix to take home to her mother. And the night before she died, Sister Claver visited some of her friends on the third floor. Sister Josephine Onstead recalls:
"Sister Claver came to my room about seven or eight o'clock to massage my legs. Then she left to return to her room and came back with chocolates for me. She was not afraid of death. Some Sisters are afraid but Sister Claver spoke of welcoming death." Around 9 o'clock, Sister Reina Paz Kakilala remembers Sister Claver telling her, "Some people complain of this or that, but at this time of my life – I am content."
Who was this woman? What has been the journey of her heart? Where and with whom did she make her journey? Under what conditions? Her life span covered eighty-seven years marked by the history and the spirit of the times–pervasive remnants of the Spanish colonization, the occupation during World War II, the Philippine independence from the U.S. She had celebrated the Sixtieth Anniversary of her entrance to Maryknoll on February 9, 1997, encompassing sixty years of Maryknoll history.
Sister Mary Claver Sanglap was born in San Joaquin, Iloilo, Philippines on September 16, 1909 and baptized Maria Geminiana. Her parents, the late Julita Seira Quidato and Eliseo Jamero Sanglap, had six sons and seven daughters. She is survived by one sister, and two brothers. Maria Geminiana obtained her primary and secondary education in San Joaquin. She attended Philippine Women's College in Manila from 1929 to 1932 and obtained her R.N. degree from Chinese General Hospital, Manila in 1932. After graduation she worked in Misericordia Maternity House, Sacred Heart Hospital and St. Paul's Hospital all in Manila and St. Paul's Hospital, Iloilo.
Maria Geminiana entered Maryknoll on June 27, 1937 in New York and later received the religious name, Sister Mary Claver. At Reception she remembered saying to herself, "Yes, I have followed my star through thick and thin and with the guidance of the Holy Spirit." She made her First Profession on January 6, 1940 at Maryknoll, NY and was assigned to work in the Philippines that same year. As World War II engulfed the Philippines, she renewed her vows annually until 1946 when she made her Final Commitment on January 6, 1946 in Manila. Being a Filipina, she was not interned with the other Maryknoll Sisters in Los Banos, but was sheltered in Manila in the Philippine General Hospital where she worked until she was rescued by the American Armed Forces in February 1945. Sister went to Lucena for two years and then to Manapla, Negros where she worked as a nurse and taught catechism in the hospital the Maryknoll Sisters had staffed for the Victorias Milling Co., a sugar cane processing company. She was supervisor of the second floor at the hospital from 1959 to 1971, and also became supervisor of the barrio and school catechists while she continued visiting the patients in the hospital. Until her death, the catechists she had supervised have kept writing to her. She also coordinated religious education in the local public schools.
In 1974, Sister Claver went to Malabon where she worked part time in the parish for a year. From 1975, she worked part time as a school nurse in Navotas, Metro Manila combining it with health care in the nearby squatter areas. Amidst all this, Sister Claver integrated her love of nature into what we would call today creation spirituality. She writes in 1987 of her joy in finding orchids and Easter lilies by the altar during her Golden Jubilee celebration: "It was like spring time. Someone wrote that flowers and nature give wings to the soul, and so my heart sang of the goodness of God in all of nature."
In 1992, Sister returned to Maryknoll, NY to retire. The form for Sisters requesting retirement asked the question, "How do you see yourself 'being in mission' during this time?" Sister Claver responded, "We are always in mission not only to people outside, but people we meet daily." The note from Sister Teresa Dagdag of the Central Govering Board heralded what was to take place, "We hope this assignment will be mutually life-giving for you and for the members of the Center." Sister Carmen Eser's words express the transformation that took place, "Sister Claver often said that all of us have lights and shadows and we shouldn't judge others. My idea of her changed here (Center) because she had mellowed so much. Here she was so kind and generous and compassionate. Before I returned to the Philippines she came to my room with a purse containing $50.00. She said she might not be here for my Golden Jubilee on May 4th so she wanted me to use the money on my trip home. Then she gave me another $10.00 which she said was in memory of my mother who was like a mother to her. She said she wanted to take me and other Sisters out to dinner when I returned, but we never did do that. I loved the beautiful side of her which I experienced here at the Center." This experience has been multiplied over and over again these past five years, enriching the fabric of the lives of those who came to know her, enriching the fabric of all our lives.
Sister Ann Maloney, a friend of Sr. Claver since Manapla days in the 1950's and who offered her support and close companionship during these last years at the Center, remembers Sister Claver's struggle with a quick temper and an almost compulsive drive to be on time, her sense of order, her deep loyalty to Maryknoll, her prayer life, her pride in her multicultural heritage, her love of beauty, especially nature, and the time when Sister Claver told her, "You are part of my family." Sister Ann probably says it all when she shared, "My gift from Sister Claver is a deeper appreciation of the difficult task to integrate the different cultural-ethnic-environmental-religious exposures in our life, and the joy, peace and power to witness to Jesus which is presented to us during this Easter season is a pure gift of unconditional love of God for each one of us."
And so we all say, thank you, Sister Claver, for the gift of your life and your death. Because of you Maryknoll is blessed, because of you the Earth is blessed.
We offer our deepest sympathy to Sister Claver's family and friends. But we know that all the ties of family and community which knit us together as one throughout our lives do not unravel with death. We thank our Maryknoll brother, Fr. Michael Duggan, who will preside at today's Liturgy of the Resurrection. We thank all of you who are participating.