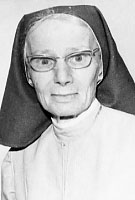 Sister Mary Clement Quinn, MM
Born: September 5, 1893
Entered: October 3, 1921
Died: February 15, 1980
Today, February 16, 1980, is the lunar New Year – the time when Chinese all over the world lay aside their cares to celebrate life. It seems appropriate that we are gathered here today to celebrate the fullness of life of our Sister Mary Clement Quinn, who had spent some 50 years in loving service to the Chinese people.
Philomena Quinn was born in Brooklyn, New York, on the 5th of September, 1893; she was one of two children born into the family of Elizabeth and Michael Quinn. After graduating from high school she worked for a number of years as a stenographer. In 1921, on October 3rd, she entered Maryknoll, and at Reception was given her religious name – Sister Mary Clement. On April 19, 1924 she made her First Vows. In 1925 she was assigned to the South China Region and pronounced her Final Vows there (Kowloon, Hong Kong) on April 19, 1927. Except for two years in mainland China during World War II, her 50 years among the Chinese were spent in Hong Kong. Sister Clement's business skills were welcomed in those early days and through the years her analytical mind, business acumen, and good judgement made possible our involvement in many and new mission projects.
Sister Mary Clement was a small woman with a big heart; she had a ready wit and a dry sense of humor which made her a pleasure to be with. In contrast, her quiet, gentle, unassuming manner made her a willing listener available anytime for those in need. Her Maryknoll Community was very important to her and in a letter to Mother Mary Coleman in 1969 she wrote: "We hear a lot about Community these days, but Mother, dear, all one has to do to know what Community is, is to take a trip to any of our Convents and find out. Mother Mary Joseph saw to it that we knew all about it long before it became such a popular word."
Young at heart, Sister Clement was always open and accepting towards those with new ideas. Before returning to Maryknoll for renewal in 1969, she wrote: "I am looking forward to brushing up on all the experimentation that is being tried out at Maryknoll. We hear such fantastic stories, that it will be interesting to know which is fact. We, too, in Hong Kong are trying out various things, some of which I think are good, and some not so good; but in these days we have to try to get used to the good as well as the not so good. As the saying goes now, we have to be open and listen. Well, I am all for the listening, but not always for the adaptation."
The spirit of Maryknoll remained with her even during her last years when ill health necessitated her return to the States in 1975. She lived at Bethany until the opening of the Maryknoll Nursing Home here at The Center, where she continued to carry out her apostolate of prayer and suffering for the sanctification of all Maryknollers – Priests, Brothers and Sisters.
During the past few months, Sister Mary Clement was noticeably weaker; but still able to enjoy visits with her Maryknoll Sisters and her family. Her tremendous inner strength helped her to bear the pain of these last days. Death came to Sister quietly and peacefully in the early morning hours of February 15, 1980 in the presence of several of her Maryknoll Sisters.
If all life is a preparation for death, that encounter with God face to face, then surely there must have been instant, mutual recognition between Philomena and her God, for in her mission-journey of love, in the gifting of herself that others might have more life, she had indeed known the God of Love in His faithfulness all along the way. And now He has called her by name and she has heard Him say:
"Well done, good and faithful daughter… for what you did for others, you did for Me. Enter now into the joy of your Lord."
To Sister Clement's family and friends we offer our sympathy and our prayers. Together let us pray for Sister's eternal peace and happiness in the Lord.
The celebrants of today's Eucharistic Liturgy are Maryknoll Fathers James P. Noonan, the Society's Superior General, and Robert E. Sheridan who, like Sister Clement, is a veteran of years in mission in China.