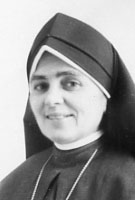 Sister Mary Consolata Mullen, MM
Born: June 29, 1898
Entered: October 14, 1925
Died: February 17, 1949
About fourteen years ago in Los Angeles, every night at bedtime in the Maryknoll Sisters' home for Japanese children, a small-bright-faced Sister with a saucy nose to uplift heavy hearts and great dark eyes to subdue unruly spirits, could be seen putting a bouquet of little girls to bed. And when they were tucked in they were just as little tucked-in girls should be – clean as rain, with prayers said and their just mead of praise or blame duly received, each one secure in the knowledge that she was good enough to be loved, delightful enough to be laughed over, and quite important enough to be scolded – and forgiven – the occasion warranting it.
What Sr. Consolata brought to the care, upbringing and teaching of these little Japanese girls, she gave to every task assigned her. Whether it was studying, teaching, caring for children, filling the position of superior, or carrying out the considerable responsibilities of novice mistress, whatever Sister Consolata did was well done- with a kind of warm-hearted and open-handed enthusiasm that carried others along with her to do their best for God and do it as though it were no trouble at all. She was particularly gifted in dealing with young people. Her Sisters were apt to think of her as a heroic sufferer and a devoted worker who from 1930 until her death on February 17, 1949 carried out her tasks and lived her religious life.
She entered the Maryknoll Sisterhood in 1925, from Somerville, Massachusetts after having already given strong support to missionary interests as a young laywoman, showing so evidently even then the promise later realised in her that Father (now Bishop) James E. Walsh remarked her as someone out of the ordinary after only a casual meeting. On asking to be received into the community as a novice, she expressed her direct Sister and fervent intention in these words, 'I do wish to go on of my own free will, that I may love and serve God better, and from no other motive.' Having made her profession of vows in 1928, she had ample opportunity in a long and useful life to love and serve God as she desired. After eleven years of work with the Japanese in Los Angeles and Seattle she returned to the Motherhouse in 1946 as a delegate to the General Chapter and was made assistant mistress of novices, first at the Motherhouse, then at the new novitiate, Our Lady of Maryknoll Novitiate, near Valley Park, Missouri, when it opened in the fall of 1947. There, after doing her generous utmost to have so important a work begin well, she died on February 17, 1949. She had served God with joy and went home to Him trustfully.