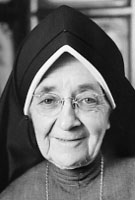 Sister Mary Consuelo Leiendecker, MM
Born: May 8, 1878
Entered: September 23, 1923
Died: May 3, 1963
Shortly after 12:30 this morning, May 3, the First Friday of the month, God called our dear Sister Mary Consuelo to Maryknoll-in-heaven. Sister would have celebrated her 85th birthday in a few days.
Born in Pittsburgh, Pennsylvania on May 8, 1878, Sister Mary Consuelo (Mary Catherine Leiendecker) entered Maryknoll on September 23, 1923, at the age of 45. Prior to her entrance she had worked as a clerk and bookkeeper for twenty-five years, and during seven and one-half years was a zealous member of a mission club. She was to give the remaining thirty-nine years of her life to the service of God and was on active duty until the last few months. Sister received the habit on April 19, 1924 and made her Profession on April 30, 1926.
Assigned to St. Anthony's Convent, Kalihi, Hawaii in August 1929, Sister Mary Consuelo remained in that house for twenty-eight years, excepting a short period of helping out at St. Ann's in Kaneohe. At the time of her second decennial in 1957, Sister was assigned to St. Teresa's Convent here at the Center because of failing health. In August 1959, she was transferred to Bethany.
Generous fidelity and joy marked the hidden apostolate of Sister Mary Consuelo. Appointed "housekeeper" at St. Anthony's, she became also the bookkeeper, made the Sisters' habits, took charge of the laundry, and cooked and supervised in the School Cafeteria. Sister loved the children, and only the recording angel knows the extent of her charity to them, especially the delicacy with which she managed to give to the very poor according to their needs. To her Sisters she was always the exemplification of the ideal Maryknoll Sister, striving for the perfection of love in her service. That service continued at Bethany, where she donned a white apron and performed many little services for patients and nurses until the beginning of her own last illness.
Sister Mary Consuelo will be buried, from Bethany chapel, in our cemetery here on Monday, May 6.