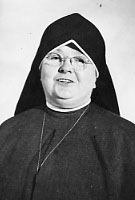 Sister Mary Daniel Young, MM
Born: October 6, 1901
Entered: June 7, 1923
Died: October 13, 1966
A telephone call this morning from Sister Miriam David from Hawaii, brought us the unexpected word of the death of our dear Sister Mary Daniel following surgery.
Sister Mary Daniel (Dorothy Alice Youg) was born in Apollo, Pennsylvania on October 6, 1901. After graduating from St. Paul's High School in Butler, Pennsylvania, Sister took a post-graduate course in stenography, and a summer course in the State Normal School, Slippery Rock, Pennsylvania. After which she taught in one of the Rural Schools of Butler County until she entered Maryknoll in June of 1923. Sister was professed on December 8, 1925.
After profession, Sister Mary Daniel was assigned to the Venard, Seattle and Motherhouse, respectively, and in 1929 to Wailuku, Maui, Hawaii, where she remained until 1947, when she returned to the Motherhouse for her Decennial. Sister remained in the Continental U.S. at the Venard, Motherhouse and Bethany until she was re-assigned to Hawaii in 1963.
On August 17, Sister Mary Daniel wrote to say that when she had gone to Straub Clinic and surgery was necessary.
Sister wrote, "I am in good condition now and the doctors advise that now is the acceptable time for the surgery. I am placing myself in the hands of the doctors, and them in the Hand of God, and am trying to envelop myself entirely to His Will. Whatever He decides, I am offering, as I have offered most of my prayers for many years,for priests — for those who are doubting, those who are tempted, those who have fallen and those, who thanks to His grace and love, have served Him faithfully. They seem to need prayers so much more now! And I won't forget you, Mother! I am sure that I can count on the prayers of the Sisters. All I ask is that I may be a true Ancilla Domini ."
On September 30, Sister wrote: "Tempus fugits and as our first Sister M. Claire used to say, "non combackum est " So, I am looking forward with rather mixed feelings to October 10, the day for my surgery. I know that our Sisters and many others are being mindful of me. Only one thing really matters, and when all looks dark I try to recall the beautiful first part of the prayer of Sister Elizabeth of the Trinity, '0 my God Trinity – Whom I adore, help me to become utterly forgetful of self that I may be buried in Thee, my immutable Lord'. In case that I should go 'into the valley of the shadow' pray that my trust may be strong in the Lord my Shepherd."
And surely her prayers and ours were heard, for Sister Miriam David spoke of the beautiful simple courage Sister manifested throughout the whole ordeal. She was a cheerful true Ancilla Domini, to the end. May our prayers for our dear Sister, hasten the time of her complete fulfillment in God.