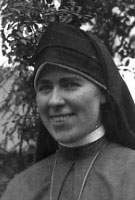 Sister Mary DeLellis McKenna, MM
Born: July 4, 1907
Entered: April 5, 1929
Died: August 4, 1993
I wish to welcome all of you as we gather to celebrate the Liturgy of the Resurrection of Sister Mary de Lellis. After a full and meaningful life, Sister quietly slipped away to her new life in God very early on the morning of August 4, 1993.
Marie Magdalen McKenna was born on July 4, 1907 to Charles and Mary McKenna in Lexington, Kentucky. She grew up on the family estate in the rolling hills of Kentucky with two brothers and four sisters. After grammar school and then high school at St. Catherine's Academy in Lexington she studied Nursing at St. Joseph's Hospital and graduated in 1928.
As she began to consider Religious Life, her family supported her wishes and her mother had always secretly cherished this desire for her. They would have preferred that she enter a congregation closer to home, but Marie Magdalen's decision was for the Maryknoll Sisters and a missionary life. She entered on April 5, 1929 and made First Profession on June 24, 1931. Prior to her assignment to Manchuria, she studied a semester of Tropical Medicines at Georgetown University.
Sister Mary de Lellis was to spend the next 12 years in Manchuria and China. First in Fushun learning the language and working in the Dispensary. Then she moved on to Dairen, where she was engaged in catechetical work as well as a nurse in the Dispensary. It was here that she made her Final Vows on June 24, 1934. She once wrote for a vocational booklet a description of this time, which reads: "After my Profession at Maryknoll, I was assigned to Fushun, Manchuria where our Sisters were making a new foundation. This was the beginning of ten wonderful years, during which I lived and worked with both Chinese and Japanese people. I learned to speak their language, to understand their problems, to love and appreciate their character." Then in 1941 at the outbreak of the war, she was interned in Shanghai, being repatriated to the U.S. two years later on the Gripsholm.
Sister spent the following years in many different houses in the U.S., from the Venard, to Mountain View, to Monrovia and back to the Center. She mentioned to Mother Mary Columba that her family was overjoyed to have her closer to them, but she would love to continue to do nursing wherever she was most needed.
Many of us remember her time here at the Center in the late '50s and '60s for her service to all through foot care and the fitting and procurement of 'Miller Shoes'. This she did for the newly arrived and returned missioners alike. In our fond remembrances of Sister de Lellis, many a 'shoe' story is told and re-told with humor and appreciation for this service to the community.
In 1966, Sister de Lellis was once more assigned to 'fields afar' as she called mission outside the United States. This time it was to Guatemala and the hospital in San Pedro Necta for two years. On her return to the Center and Bethany she continued to do foot care for the Sisters.
A few years later Sister was asked to return to her family home in Lexington to care for two of her aging sisters. She was to stay ten years doing what she loved best, nursing and caring for others. On the death of her sister, Julia, Sister returned to the Center again, always willing to contribute to the life of the community through her gifts, especially doing sewing and other small tasks for the Sisters.
Due to failing health, Sister de Lellis moved to Residential Care on the Fourth Floor. She was well known for her spiritness, clarity about just what she wanted and needed.
We wish to welcome our Celebrant, Maryknoll Father Edward Manning, who is with us today as he has been many times in the past for Liturgy on the Fourth Floor with Sister Mary de Lellis.