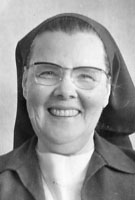 Sister Mary Dennis McCarthy, MM
Born: December 1, 1905
Entered: October 15, 1929
Died: December 21, 2006
We gather today as a family to celebrate Sr. Mary Dennis McCarthy's entrance into New Life. At about 9:45 p.m. on December 21, 2006 our Sister died peacefully in Maryknoll Residential Care IV. She was 101 years of age and had been a Maryknoll Sister for 77 years.
Mary Frances McCarthy was born on December 1, 1905 in Roxbury, MA to Dennis and Catherine McDonald McCarthy. She was one of eight children, five girls and two boys. Mary Frances attended St. Joseph's Primary and Secondary Schools, in Roxbury, MA. She studied commercial subjects, and after graduation worked as an Office Clerk for N. Sallinger Co. and the Massachusetts State Registry of Motor Vehicles.
Mary Frances entered Maryknoll on October 15, 1929 from St. Joseph's parish in Roxbury, MA. At Reception she received the religious name of Sister Mary Dennis, which she retained for the rest of her life. Sister made her First Profession of Vows on January 6, 1932 at Maryknoll, N.Y. and Final Profession of Vows on the same date in 1935 in Honolulu, Hawaii. After First Profession, she studied at Maryknoll Teachers Training College, Maryknoll, N.Y.
Sister Mary Dennis was assigned to Hawaii in 1932 and taught Christian Doctrine to pupils in grades two through four. During this time she also took courses at the University of Hawaii.
From 1939 to 1954, Sister Mary Dennis was in charge of the kitchen at the Maryknoll Fathers Minor Seminary – The Venard – in Clark's Summit, PA. She was happy to be part of the seminarians' lives and rejoiced to see them ordained to the priesthood. The Maryknoll Sister Postulants who worked under her supervision during this time were very fond of her, and were always delighted when she joined them for recreation.
For the next two years, Sister served as Personnel Administrator at Queen of the World Hospital, Kansas City, MO. Then in 1957, she was assigned to the Maryknoll Sisters Novitiate in Valley Park, MO to be in charge of the kitchen. A year later Sister was sent to Topsfield, MA to supervise the kitchen at our Novitiate until 1960. She was very good to the Novices and would encourage them by saying: "Just know this is the hardest time of your life, after you are professed everything is easy."
In 1960 at age 55, Sister Mary Dennis was assigned to Tanzania, Africa to her great delight. She worked in the Diocese of Shinyanga for fourteen years in Sayusayu, Mipa and Nassa. Sister did catechetical work, visited families in their homes and taught sewing to the women. In Nassa, she helped in a clinic and cared for premature babies, in a bedded nursery of the dispensary. Her motherly care and love for the babies spoke volumes as many times she would spend a good part of the night caring for a premature or a dangerously ill child.
Sister worked hard to become fluent in Kiswahili and Kisukuma. Her big heart and actions spoke louder than words. Sister Mary Dennis spoke fondly of her ministry in Tanzania and would say of those years: "I loved the African people, their language and culture. They were the happiest years of my life."
In 1974, Sister was assigned to the US Western Region and worked in Tohatchi, NM with the Navajo people, whom she loved. Her ministry was home visiting and catechetical work. She, with another Maryknoll Sister, lived in a trailer in a very isolated area. Sister learned little phrases in the Navajo language, and through her witness won the hearts of all.
Sister Mary Dennis returned to the Center in 1988 to give Congregational Service in the Maryknoll Sisters International Shop. She officially retired in 1991 and continued to do volunteer work and participated actively in community life. She welcomed many sisters when they returned to the Center for Renewal or Service eager to hear their mission stories. In 1997 Sister was assigned to Residential Care IV until this year's Winter Solstice when she returned to the God whom she loved and served so faithfully. Her Prayer Ministry was Congregational Personnel.
Today in the reading of I Peter 4 we will hear: "Put your gifts at the service of one another, each in the measure you have received… The one who speaks should deliver God's message". Sister Mary Dennis lived this to the full by sharing her gifts and making God's love known with her adaptable disposition and willingness to serve in any way she could. She said: "I don 't care where I work, as long as I have enough to do." and "It doesn't matter what you do — each one of us is a cog in the wheel and it makes everything go." Changes did not bother her for she could always find something useful and necessary to do. When she received her assignment to Africa in June 1960 she said: "I am completely overwhelmed with joy and expectancy of all the wonderfulness of what lies ahead" And now she is enjoying the wonders of her New Life, where she can see, hear and dance with joy.
We welcome and extend our condolences to Sister's family. We also welcome our Maryknoll brother Father James Lehr who will preside at this Liturgy of Christian Burial.